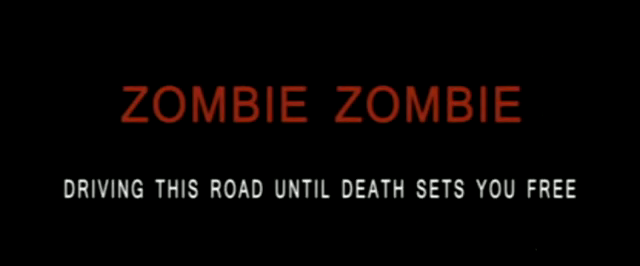 Ok, let me tell you something. Today, I decided to review something different as the typical trash movie stuff you can find here every friday. Why? Well, there are a few reasons. First of all, I started reviewing 3 different movies but wasn't satisfied with the results. At some point I remembered this really beautiful video, Daniel Carneiro showed me a week ago in Berlin. I decided to rewatch it and to write a few lines because the guys definitely deserve it. Believe me, you are not going to be disappointed. And last but not least, Driving This Road until Death Sets You Free (2008) is movie related nonetheless.
First some facts. The video you are about to see is the first clip made for the French electro-pop band Zombie Zombie aka Etienne Jaumet and Cosmic Neman.  Directed by Simon Gesrel and Xavier Ehretsmann (check out this interview) this non-official video clip is a beautiful masterpiece of modern stop-motion and a mind-blowing hommage to the great movie allrounder John Carpenter and his masterpiece: THE THING.
The great attention to detail (have a look what they used normal hot glue sticks for, a miniature vodka bottle, other vegetables and lots of G.I. Joe characters and other toys), the incredibly dedicated elaboration of  stop-motion art combined with the wonderful filming and the after effect work  still make me speechless. Do not miss this, watch it here:
Zombie Zombie clip "Driving This Road until Death Sets You Free" from Simon Gesrel on Vimeo.