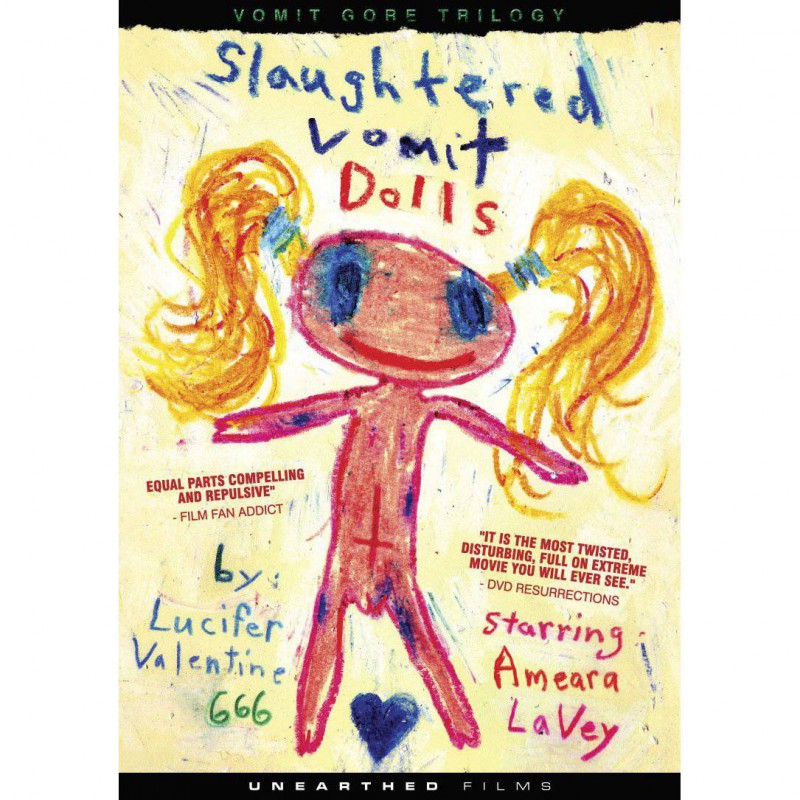 Most of the reviews I do are some kind of publicity, bad or good one, combined with personal thoughts I want to share. This one nevertheless is simply a warning! DO NOT WATCH Slaughtered Vomit Dolls (2006). However the movie got your attention, do me a favour and watch the trailer. I rarely recommend trailers but for Slaughtered Vomit Dolls it is absolutely legitimate because the movie IS the trailer except that it lasts for 70 minutes. I even thought about not reviewing it at all because I do not want people wasting their time or even make it interesting for underage people but in the end I find it important to take a firm stand.
First of all I want to tell you something about the plot and therefore am going to quote IMDB user Glock 22:
Someone wrote in the plot that it is about "psychological manifestations of a nineteen year old bulimic runaway stripper". Well, I have no idea where that fella got this from but I can as well say that it's about "a group of ex-Russian intelligence agents being hunted down and poisoned with polonium" or "an Olympic volleyball team on the eve of a steroids test trying to get rid of their stomach contents". You can also write your own plot and nothing would be wrong with it because that thing has no plot what so ever.
Director Lucifer Valentine 666 (what the fuck man, you are not a pubescent sixteen year old child anymore) on the other hand claims in an interview that:
I wuz on vacation in America, standing outside Kurt Cobain's house in Seattle Washington, thinking about how horrible his Death wuz, when my girlfriend at the time, Ameara LaVey called me on my cel phone. I told her, "We are going to make a movie about a dimension of the parapsychological synchronistic events that took place during the Last Six Days of Kurt Cobain's Life." Ameara said that sounded like fun, and so we went about shooting SLAUGHTERED VOMIT DOLLS as the depiction of the Death of a girl named Angela Aberdeen, and what led up to her suicide during the EXACT SAME time period as Kurt Cobain's Suicide.
Even though I am aware of the nineteen year old bulimic runaway stripper and stuff, I am going with Glock 22 because in the end all I see is an incoherent, un-erotic, pseudo-experimental rape flick, which tries to fit into the hardcore horror genre but most of the time is simply boring. Self proclaimed Satanist, Lucifer Valiente considers Slaughtered Vomit Dolls as vomit gore and yeah…the gore scenes are most of the time pretty lame and I never really got the whole vomit stuff but I suppose it should shock.
If this is not enough the weird editing, the slowed down and distorted Sound Fx nearly made me throw up too and turn this "movie" off after the first 6 minutes. Do you know the Fuck Frankie track on Manson's Smells like children record? Well, just listen to this song for 70 minutes and you got what the audio of the movie sounds like. If you do not know the track, here it is:
[youtube https://www.youtube.com/watch?v=nPgwpkdDLP8]
I have no problems with directors jumping on horror sub-genre bandwagons like the ultra-modern violent porn or found footage stuff (yes, Mr. Valentine, that's exactly what you did, nothing more, nothing less). But I have a problem with movies which just want to provoke and disturb for the sake of it. Please do not call every dull bullshit hardcore horror movie "experimental". Slaughtered Vomit Dolls is a first class  excremental movie.
To finish the whole story here is the worst part: SVD is the first movie of a trilogy with ReGOREgitated Sacrifice (2009) and Slow Torture Puke Chamber (2010) completing it. Any positive things about the flick(s)? Yes, I quite like the cover artworks…