Today's post is going to be something different, something new. As I am a huge movie memorabilia and special edition fan I am going to post my favourite Box Sets. Before I start I have to explain a few things. The design, appearance and the making-up of the DVD set is in the spotlight. The movie itself just as the image and sound quality come second even though I try to chose uncut films I appreciate. And last but not least I am aware that there are tons of other nice  editions, so if you are not satisfied with the list, just put you favourite ones in the comments below. To conclude, please note that it is not me in the videos. Enough talking, here we go.
#10 The Fly: Ultimate Collectors' Edition Box Set [DVD]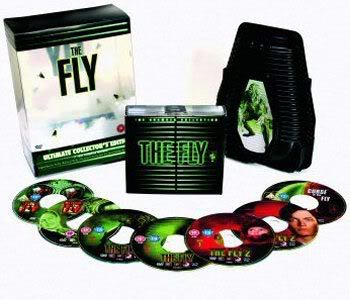 Do I recommend this edition –> unsure: This edition made it on the 10th place because it contains all 5 Fly movies, numerous extras and has a great sound and image quality. Furthermore I think that the package looks quite interesting but after I did some research I found out that the Box Set itself is made of cheap plastic and that everything has to be handled with care in order not to break anything. In the end, the box looks good but I am not really sure if I am ever going to buy it or if I just stay with the "normal" DVDs. Check it out and make your own decision.

#09 The Big Lebowski 10th Anniversary Edition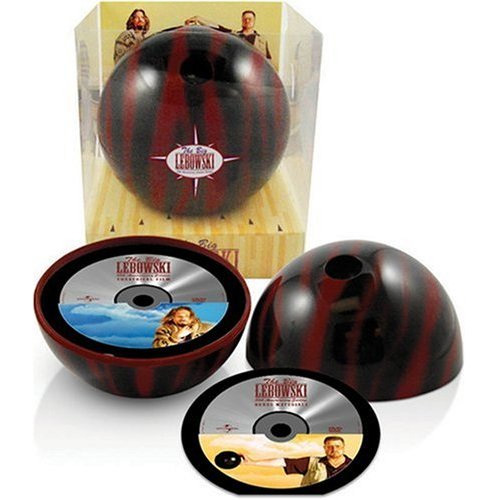 Do I recommend this edition –> yes: A limited edition bowling ball case of The Big Lebowski. It just looks perfect, nothing more to say.
#08 Sleepaway Camp Survival Kit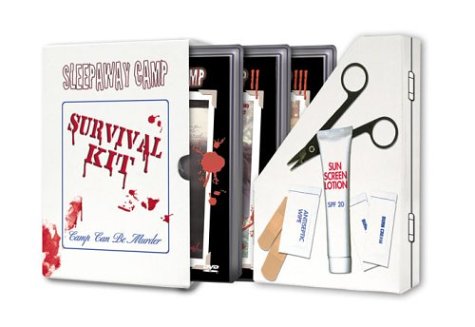 Do I recommend this edition –> only for fans: Here it is all about you being a 80ies slasher  fan or not. The survival kit contains Sleepaway Camp, Sleepaway Camp II: Unhappy Campers and Sleepaway Camp III: Teenage Wasteland. From Amazon: "This very cool box set of the cult classics – The Sleepaway Camp Trilogy has a cute "first aid" motif with bloody handprints on the slipcover. The red paint used on the slipcover for the blood actually FEELS STICKY, like real blood! Open the slipcover up and you have pictures of first aid items like band-aids, first aid cream, gauze, antiseptic wipes and the like with the DVD's right inside. Utter PACKAGING GENIUS! Also included is a "Sleepaway Camp Diary" that gives the history of all three films and includes addresses for cool Sleepaway Camp fan websites. All three of the features are presented in widescreen with audio commentaries, still galleries, theatrical trailers, outtakes, behind the scenes, deleted scenes and MUCH, MUCH GORE!!!" And that's where I 100% agree!

#07 Alien Quadrilogy Deluxe Alien Head Limited Edition Box Set [DVD]
Do I recommend this edition –> only for hardcore fans: I was never an Alien fan and I never will be but just have a look at this amazing, detailled Alien head DVD holder.

[youtube http://www.youtube.com/watch?v=MFXukW3I8X4]
#06 Planet Terror (uncut) 2–Disc Limited Coll.-Edition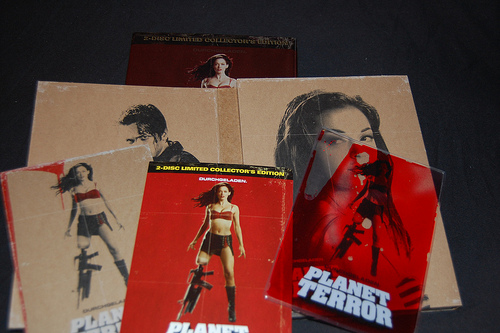 Do I recommend this edition –> yes: First of all, Planet Terror is, even though quite modern, one of my all-time favorite grindhouse flicks and this limited and numbered Tin Box does justice to this epic movie on every single level. The flick, with a run-time of 101 mins is completely uncut, the sound and image quality are pin sharp. The extras on the second disc are really interesting and informative. The Planet Terror blood pack just like the odored DVDs are quite useless but the adding of the famous BBQ sauce recipe is a stroke of genius and the sauce is really delicious. If you are a fan of the movie, this is the only edition you should buy! Oh, yeah here is the recipe (sorry but I was to lazy to translate it into english):
4 Portionen
1 Tasse – Tomatenketchup
1 Tasse – Sonnenblumenöl
1/4 Tasse – brauner Zucker
1/2 Tasse – feingehackte Zwiebeln
1/4 Tasse – Worcestershire-Souce
1 TL. – Senf (normalen Schärfe)
2 TL. – Paprikapulver
1-2 TL. – Chilipulver
1 – Messerspitze Zimt
3 – Knoblauchzehen, feingehackt
3- Spritzer Tabasco
Sanft von 1,5 Zitronen
Salz und Pfeffer nach belieben
Zubereitung:
Alle Zutaten in einen Kochtopf geben,
Erhitzen und mindestens 30 Min. leicht köcheln.
Vor Verzehr abkühlen lassen.
#05 The Texas Chainsaw Massacre (Ultimate Collector's Edition Blu-ray + 3 DVDs)
Do I recommend this edition –> yes
[youtube http://www.youtube.com/watch?v=4rVsW8GkHuY]
#04 Dawn of the Dead: The Ultimate Edition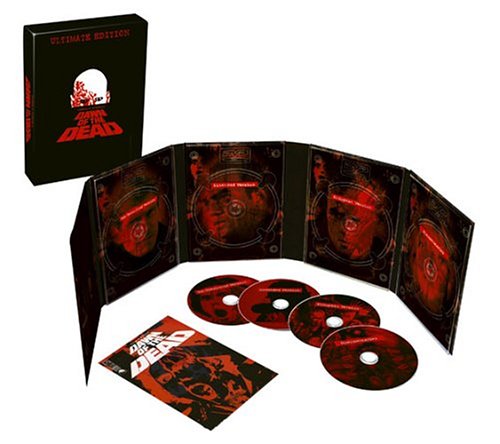 Do I recommend this edition –> yes There are tons of different editions of Dawn of The Dead out there but this one is by far the best! Disc one is the original unrated director's cut with George Romero, Tom Savini, and Chris Romero commentaries, theatrical trailers and radio spots. Disc two is the extended edition, some footage, a Richard Rubinstein commentary and some other stuff. Disc three comes with The Dario Agento cut (which was released in Europe) and some commentaries by the stars of the movie. And last but not least Disc 4 contains The Dead Walk and the Document of the Dead documentaries, just as a feature-length one shot during the making of Dawn of the Dead, some home movies and a tour through the Monroeville mall. And now comes the best, you can buy this epic edition on Amazon for only $15.35. What are you waiting for? Buy it now!

#03 Cannibal Holocaust Limited Deluxe Statue Edition
Do I recommend this edition –>only for fans

[youtube http://www.youtube.com/watch?v=JUEccUass38]
#02 Battle Royale 1 – Limited Ultimate Edition (5DVD+Blu-Ray+Blu-Ray 3D) (7Discs) – Uncut
Do I recommend this edition –> yes:  Quite the same as with the Planet Terror edition. This Box Set (fabric covering and hot-foil embossing) is utterly perfect. It consists of 7 Discs (Blu-ray and DVD) incl. 3D Blu-ray. Features are: Behind the Scenes of Battle Royale – Making of Battle Royale – Takeshi Kitano Interview – Shot of the  Special Edition – 42 students – Royal problems – Special Effects comparison – Behind the Scenes – At the Set – Trailer, TV-Spots & Commercials – the music of Battle Royale – Promotion & Premieres – The correct way to make Battle Royale [Birthday Version] – The correct way to fight in Battle Royale. Furthermore this edition comes with a  certificate, a poster, 8 postcards, a comic (36 pages) and a booklet (24 pages) and is limited to 5000 pieces! A well-deserved second place.
#01 Japanese DVD-BOX "GODZILLA FINAL BOX" Complete Set 2005
Do I recommend this –> for hardcore fans only: Are you blind? No? So, you know why I recommend this one. If you are not convinced yet, here is the content: Godzilla head with base, booklet, 31 discs in total: Original 30 discs + 1 optional disc (Final Wars) to complete the set covering all 28 episodes (Godzilla 1954 to Final Wars 2004) and 3 archives bonus discs. All are only in Japanese language without subtitle or translation with fucking 16kg in total. I hope I made everything clear now?! Godzilla is the mother/father of all movie monsters and this edition excludes all possibility of doubt about it.