I was born in the mid 80ies and so, logically the first slasher movie I saw was Scream 1. In addition I have to admit that I, as a big horror fan, have never seen a Nightmare On Elm Street movie (shame on me) and the interest in Halloween just came recently. In fact, I saw the original Halloween after Rob Zombie's first one (which I quite like) and only recently started watching all the campy cult slasher movies from the 80ies. As you for sure have realized now, I am pretty much a noob when it comes to genre movies but I am always very open to "new" stuff and of course love independent movies and that's why I decided to do a little something about Teddy: It's Gonna Be a Bear. Do not expect a genre review and don't nail me down to every statement I make.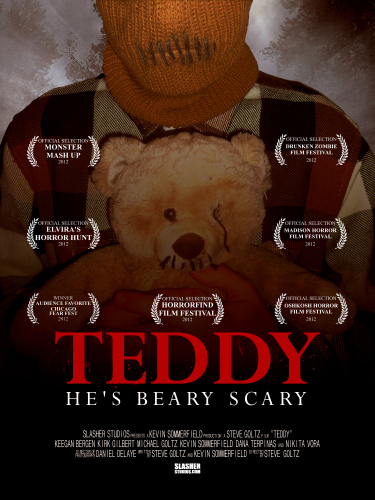 The Teddy project was first brought to me by writer and Executive Producer Kevin Sommerfield who, together with Steve Goltz (director and co-writer), runs the Slasher Studios. Teddy is the studio's first short movie and was finished in February 2011 with Sommerfield claiming that it is a new experiment in terror and a throwback to the slasher films of the 1980′s.
The story, or let's rather say the beginning of the movie, reminds me loosely of I know what you did last summer from 1997. 4 teenagers kill a man (Kirk Gilbert) by hitting him with their car. They roll him in the god damn ditch and continue their camping trip. What they do not know is that the man's mentally retarded son (Keegan Bergen) witnessed the whole razzmatazz and decides to avenge his father.
 As I already mentionned in an other movie review it is really difficult to shoot a short movie and it is often underestimated. You have to get the viewer's attention right from the beginning and the climax build-up and its positioning are crucial and often fails due to the short time given. When I first saw Teddy I had exactly this feeling but after the second watch I realized that Steve and Kevin simply didn't put that much weight or importance on the climax build-up. Teddy gets down to business pretty fast.

On the one side I would have loved to see more detailed killing scenes, but on the other side I know that detailed death scenes are really time and money consuming with both being the two deadliest ennemies of (independent) filmmakers. Furthermore I think that slasher flicks also have to play with the viewer's imagination in order to work, so this is not a negative aspect but rather a personal affectation of mine. In the end the kills are well-chosen, innovative and even pretty funny. As I am a big fan of handmade effects, I also want to thank Sommerfield, Goltz and their team for making them on their own and not using fucked-up CGI effects.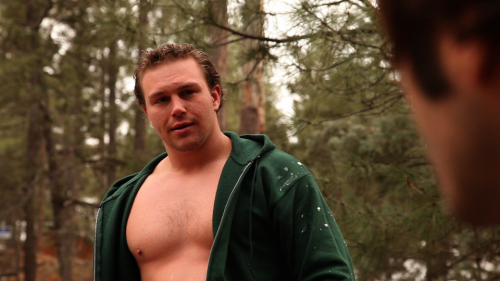 The music is spine-chilling, well chosen and perfectly placed in every single scene throughout the movie. The actors were quite decent for an independent movie, with Steve Goltz and Kevein Sommerfield standing out from the rest. Their caracters (Clay and Aaron) are incredibly over-stylized and humorous. Goltz is the muscled, arrogant, drinking asshole, who only has beer, sex, and later on an axe in his head. Sommerfield is the exact opposite and plays the random loser who in the end got nothing but a stick up his ass. The girls were nice to watch and the killer did his job.
Teddy is a nice little horror flick with funny details and typical, stereotyped slasher elements. Do not expect anything new, which for sure wasn't Kevin and Steve's intention but if you are interested in oldschool or even modern genre movies you should give Teddy a try. It is a nice 11 mins movie by dedicated independent people who believe in 80ies horror and who want to prevent it from dying unlike 99% of the people in the movie.
[youtube http://www.youtube.com/watch?v=ZUKRT8nUpZE]
Finally if you like what you see/saw you can support the studio's upcoming slasher feature, Don't Go to the Reunion. There are only a few days left on the kickstarter. So check it out here