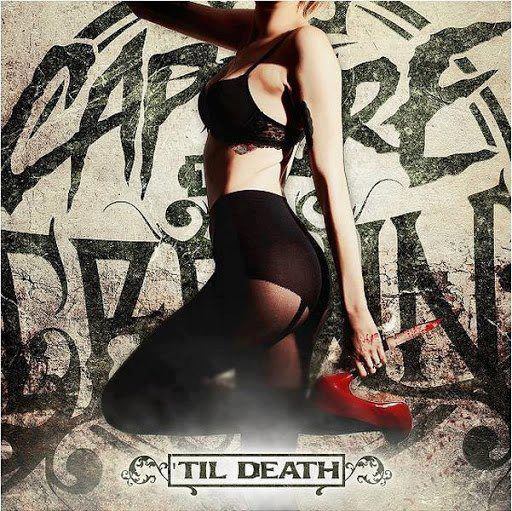 In the couple of years that I've been listening to metalcore and similar music I've seldom seen one band receive as much hate as Capture The Crown. The reason for all this malice is that people argued that they blatantly copied Asking Alexandria's style from their Stand Up And Scream era. This includes: the way they dress, their musical style, their lyrical content and so on. I have to admit that back when I heard their first single You Call That A Knife? This Is A Knife! I had the same impression and opinion…but since I usually don't judge a band after a single song I decided to wait for their first full length. In late 2012 they announced that their debut Til Death would be released in December 2012 via Sumerian Records, which wasn't really a surprise since they have also signed AA. But enough back story, let's get down to business.
Already during the intro you'll know what direction this record is taking: metalcore infused with electronic elements. The guitars come at you with great ferocity and even though the main riffs are pretty generic, there are a lot of tasty licks to keep it from being monotonous. And, as you may or may not know, even though I usually have a hard time to hear the bass lines, there is absolutely no problem here, they are clearly distinguishable.
The drums throughout the fourteen songs are nothing awe-inducing but they do exactly what they are supposed to do: keep the beat and rhythm. So no complaints there. The vocals vary between deep growls, high screeches and clean singing and are altogether very well executed. The lyrics are laden with curse words but if you're not too much of a wimp when it comes to that it shouldn't bother you.
There's only one small gripe during this forty-eight minute album: the "dubstep" song Storm In A Tea Cup is just awful, especially with the auto-tuned vocals…but I'm not a big fan of stuff like that to begin with. But since it's easily skipped it doesn't bother me much when I listen to the entire record.
All in all, I'd say that CTC have managed to make a respectable first step into the scene and that they're definitely worth checking out, especially if you liked the above mentioned Asking Alexandria album. I'm eager to follow their evolution and I hope that people will at one point look past the prejudices and just accept the band's style, be it original or not. Check out their Facebook page and listen to the song below!
[youtube http://www.youtube.com/watch?v=zC9ru4LLNHU]