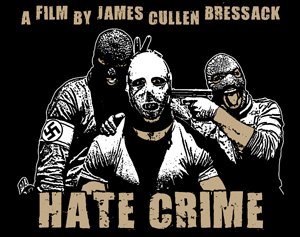 Independent filmmaker James Cullen Bressack's latest movie HATE CRIME was quite difficult to review for me. To be straightforward with you, James and his movie want to provoke, which sometimes works really well but unfortunately also fails quite a few times. To give you an idea of what we are talking about here: HATE CRIME is a point of view found footage movie mixed with moderate french violence porn insanity and the aim of pointing to racial prejudices still existing in our modern societies.
The story and especially the idea/conversion of the portrayed pschological and physical abuse loosely remind me of Haneke's psycho epos Funny Games (1997) and Stanley Kubricks's masterpiece Clockwork Orange (1971) with a pinch of neo-nazi. James, of course, has adapted the violence to the 21st century, so everything is a bit more brutal than you may expect. In short: a family is celebrating their son's birthday when all of a sudden the party gets crashed by hate-filled nazis who resolve to torture the family in every imaginable way.
If you are into no-budget hardcore and exploitation, this movie could be interesting for you, but there are also a few things which bothered me. I won't go into details now as I do not want to spoil the film for you. The family cast is quite decent but I had my share of problems with the villains. The neo-nazi scene is omnipresent in Europe and it is very important that we do not close our eyes and fight this bullshit, but in the end, they were not credible enough and behaved quite artificially.
The dialogues are mostly based on nazi stereotypes and seemed fittled or even improvised. As I already pointed out, the nazi subject is very weighty and just like the exploitation and especially rape and revenge movies from the 70s, James wants to focus on this theme by exaggerated violence and excessive shocking elements.
Personally, I think that the scenery and acting are too faked and seem to be uncoordinated or even improvised. All in all, if you can overlook these negative aspects and are familiar with bizarre independent flicks, you can give HATE CRIME a try.
I am looking forward to what young independent filmmaker James Cullen Bressack has in store for us in the future.