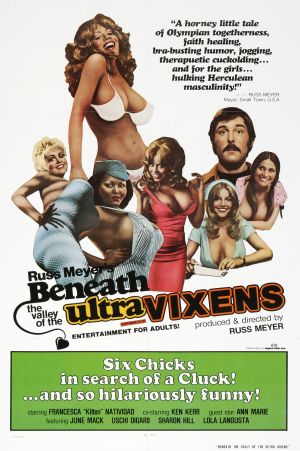 Beneath the Valley of the Ultra-Vixens is an author's film by Russ Meyer (R.I.P.) and was co-written by film critic Roger Ebert (R.I.P.). Furthermore, it was Meyer's last feature film and together with UP! probably the most sexually graphic one of his filmography. Ultra-Vixens, which can be labelled as a satirical sexploitation film, was released in 1979 and stars Meyers' big busted softcore porn sweethearts Uschi Digard and (ex-partner) Kitten Natividad.
Russ Meyer certainly wasn't known for doing mainstream movies but Ultra-Vixens even goes beyond the typical campy, low-budget soft porn, exploitation stuff he was best known for. Summing up, Beneath the Valley of the Ultra-Vixens focusses on women's struggle for sexual satisfaction and men's inability to fulfil the distorted male sexual role which is imposed by society. In a more simplified or superficial version this means that it is all about big breasted, hairy nymphomaniacs and a man who only gets sexual satisfaction by anally raping women. This of course is not enough to baffle me but rather makes me want to see more but beware: Beneath the Valley of the Ultra-Vixens drifts off into a weird world of preposterous sex slapstick!
On a cinematic level I desperately sought for a logical narrative structure, a tension build-up, and character development/progression. Furthermore it seems that Meyer forgot that Ebert and he wrote a plot together and only remembers it until the middle of the film. However, before even risking to follow it he has already abandoned the plan, strips to the buff and strings together one sex scene after an other and this for the last 30 minutes of the film. Ultra Vixens certainly is one of Meyer's more experimental films, containing a lot of gamy, curious but also remarkable and innovative camera angles and perspectives, like filming through bedsprings.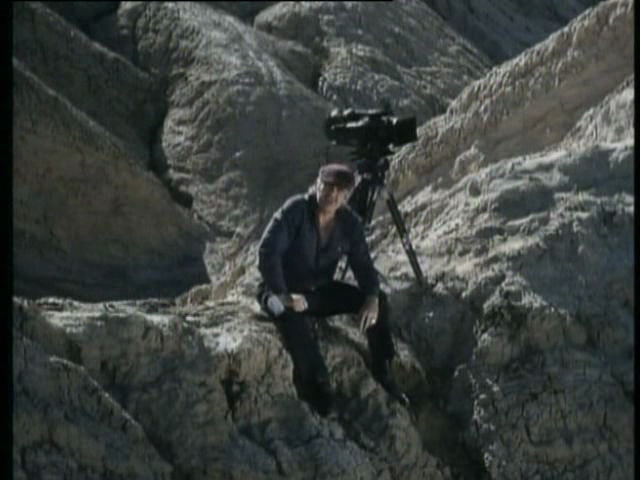 In the end, I have the stong feeling that Meyer wasn't able to finish his film as there are too many repetitive and confusing images/scenes. Even though the review doesn't sound quite positive, I really liked the film but I can't tell you exactly why. I am not even sure if I should recommend Beneath the Valley of the Ultra-Vixens but who am I to tell you, do whatever you want.