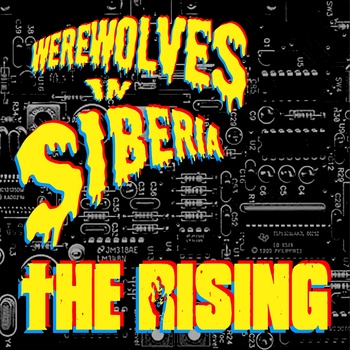 As your blog manages to get bigger and more popular, it happens that people request you to review their masterworks or how they like to call it. Which is a good thing, actually. Thanks to social media we get in touch with new artists and never despair to write new reviews as new material drops by on an almost daily basis. But at what price?
Werewolves in Siberia play, what they call, 70's and 80's inspired synth rock. As I never heard of them before, I did my obligatory online researches, checked their bandcamp and twitter profiles but couldn't get any further informations. Last.fm confirmed my fears, as this band / collective / project only has 2 listeners and 14 scrobbles. Oh boy, what was I getting myself into?
If The Rising is supposed to be a horror soundtrack, it does not fail its task completely. The soundpalette is cheesy and well chosen at least. But that's it. The opener Introduction to a nightmare and the last track Return to the nightmare could give you the impression that The Rising actually is a concept album, but no it's not. It's not that I do not like sterile soundscapes and repetitivity; that's what made Kraftwerk the most recognized electronic band ever, but one has to put a lot of effort into creating his own sound and identity instead of selecting the most annoying and cheesy instrument in Magix Music Maker and calling it your own creation. It's all about compromising!
The Rising is not catastrophic, the production is clean; there are even some pleasant moments in it, like Return to the nightmarewhich could sound colossal if only the artist had put more time into his composition and tried to implement real instruments into the track instead of going full MIDI. This album is supposed to be a horror soundtrack but plashes into insignificance and boredom. The only thing my mental cinema could imagine was a group of Ewoks hunting mushrooms in planet Gutter on a real bad Meth trip. And that's not even as funny as it sounds. But if you're still into this kind of music (why not?), get it on bandcamp.