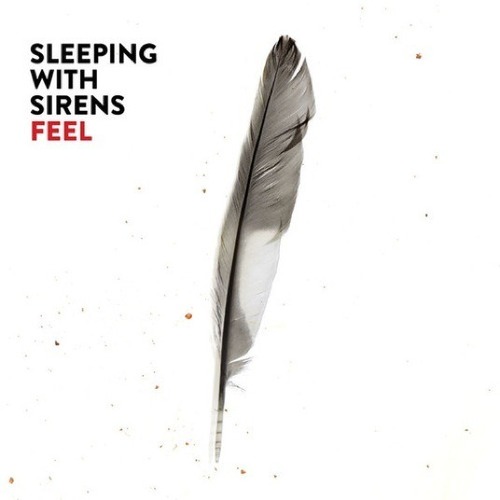 If there's one criticism people sometimes utter when it comes to music that I absolutely despise, it would be "Band XYZ's new album sucks because it sounds nothing like their old stuff". Seriously? If you want a band to sound the same as you're used to, just go listen to their previous records. I, for one, welcome evolution and innovation of a band's sonic spectrum, even if it's very different to what I'm used to. Said phenomenon is definitely something that Sleeping With Sirens will experience with their new release Feel.
The difference can be noticed after the first few seconds of the title track: everything sounds more radio-friendly and a lot of the post hardcore aspects are dialed back quite a bit. Instead you're confronted with a hybrid of hard rock and post hardcore… which is weird at first, but it grows on you, or at least it did on me. And even though the majority of the twelve tracks remains faithful to this formula, you have a couple of tracks that somewhat go back to the older, heavier concept.
Instrumentally, I'd have to say that they removed a bit of the complexity but by doing so they added a certain catchiness to most of the songs. The vocal performance is perfect as usual if you are into Kellin Quinn's type of voice (tenor leggiero, thanks Wikipedia). For those of you who are as clueless as me as to what that means: basically it's rather high-pitched clean vocals which automatically means that it's probably not everyone's cup of tea.
To spice things up, there are four guest vocalists throughout the forty-four minutes: Machine Gun Kelly on Alone, Shayley Bourget of Dayshell on I'll Take You There, Fronz of Attila on The Best There Ever Was and last but not least Matty Mullins of Memphis May Fire on Congratulations. The latter might remind some of you guys of a song by some other rather famous band that I won't mention here… but I'll let you be the judge of that. It's a killer song either way.
To sum things up I'd say that even though SWS' third album is probably my least favorite of the band, it's not as terrible as everyone makes it out to be. Give it a shot, try to keep an open mind and you will not be disappointed. I'm sure as hell going to re-listen to it more than once in the future. If I managed to make you curious, visit the band's Facebook page where you can stream it in its entirety and check out my personal highlight below!
[youtube https://www.youtube.com/watch?v=irtPMGHR0KA]