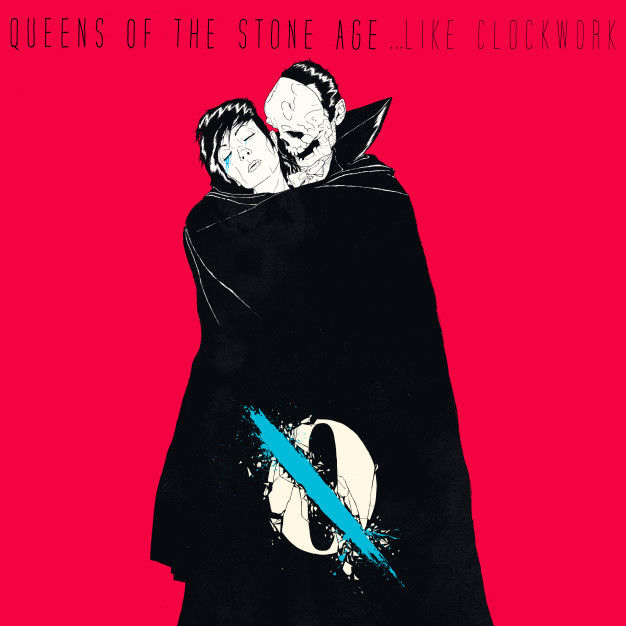 As comparisons seem to be inevitable when it comes to QOTSA, let me say it right from the beginning: no, this is nothing like the self titled debut, it's not Rated R and it surely won't reach Songs For The Deaf. There will probably never ever be an album like one of those 3 again, take it or leave it.
…Like Clockwork is the 6th studio album from the Palm Desert rockers, the first in 6 years. Keep Your Eyes Pealed is a dark and threatening opener, unpredictable considering a potential outburst. The bass is hard and dirty, and in fact, this opener doesn't really give a hint considering the whole LP's sound, except for the darkness. …Like Clockwork is a very smooth album. Don't expect any fast and heavy songs like in the past. However, the typical QOTSA sound is preserved in every minute, even if it doesn't always seem so. The "druggy" Era Vulgaris sound as well as a few Them Crooked Vultures (and even Eagles Of Death Metal) elements are present, but not at all characterising for this record, which in its essence is the darkest, most pessimistic and most sensitive release by QOTSA so far.
Two piano ballads, pending between John Lennon and the great Mosquito Song, even found their way on the tracklist, underlining the melancholic overtone once more. But all this doesn't mean that …Like Clockwork can't be considered as a potential soundtrack of the summer, or that the queens totally lost their heaviness, on the contrary! If I Had A Tail is a perfect road trip track, My God Is The Sun is the hard flagship of this release and grows bigger and bigger the more you turn the volume up. Songs like Kalopsia or Smooth Sailing are hidden stars with their melodic and grooving surprising moments.
I Appear Missing (together with My God Is The Sun) embodies the obvious epic moment of …Like Clockwork, combining a western soundtrack with a powerful outflow. This album really works in its entirety. The different sound impressions may sometimes imply a feeling of incoherence, though. One question that remains is about the live compatibility. We'll find out during this summer's festival season.
In case you wonder if too many cooks spoil the broth I can calm your worries. Although there is a huge amount of guest contributions by, among others, Nick Oliveri, Elton John or Trent Reznor, they are mostly found in details or in the background. The most obvious and great contribution, in my eyes, can be found by Mister Reznor in Kalopsia. The performances by Joey Castillo and Dave Grohl are noteworthy, as always, but I especially want to pick out Michael Shuman who supplies a great bass play.
To return to the comparisons, and now I'm being very subjective (and as I mentioned above, one probably shouldn't compare too much), this sounds a little like Lullabies…, but way more dangerous, and also a bit like Rated R, but less aggressive. One may even find moments of the filigree Songs For The Deaf but, like every QOTSA output, this LP has its very own character. Personally, I think this is their best release since 2002, whatever "best" means.
[youtube http://www.youtube.com/watch?v=iFca32_7YUU]