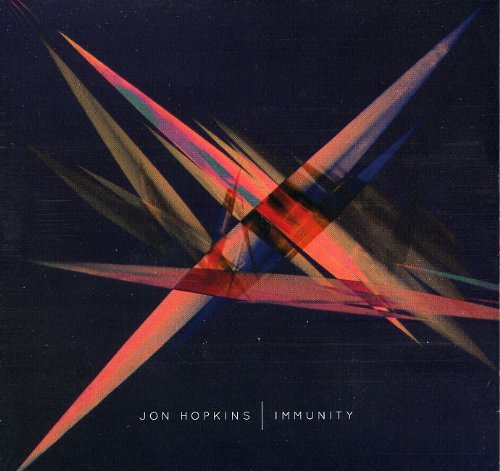 Truth be told, I have never heard of Jon Hopkins before, if it wasn't for a friend who pointed out that he collaborated with Coldplay years ago with his song Light Through the Veins being the intro snippet for Viva La Vida's opening track Life in Technicolor. As the ambience and emotions caused in that track were far more stunning than Coldplay's LP, I was eager to hear what he was capable of doing as a solo artist and it turned out that Jon Hopkins can do way better than composing Chris Martin's delivery room soundtrack.
If it was to summarize Immunity in one, simple sentence I'd say that this LP is a perfect electronic / neoclassical hybrid. The opener We Disappear reminds me of Burial's wonkiness, especially during his Untrue phase. This is minimal electronic music as it should be and no overinflated bass-driven techno madness. Solid structure, fragile content.
Open Eye Signal sucks you right into the dancefloor. The pumping beat and the deep atmosphere make you forget time and space and you'll be pleasantly noticing every fibre of your body moving to this groove. One of my favourite tunes on this LP.
Personally, I think that Breathe This Air stands out as the best example of Hopkins' capabilities as a composer. He masters the quiet / loud game like a boss and captivates the listener with his unique blend of deep electronic compositions with frail classical elements. Collider, on the other hand, is straight-forward, hypnotic and stomping. This could be my soundtrack for cruising through urbanisation at night.
Fortunately, Hopkins did not opt to release a pure electro album. Tracks like Immunity or Abandon Window are the proof for his real talent, which is evoking moods with placidity. The soundscapes remind me of Sigur Rós, during their heyday (from Ágætis byrjun until Takk…), with the fragility of the tracks being the strongest point on this LP. This is as naked and intimate as music can possibly be.
Maybe it's too early for my verdict but I somehow feel the urge to name Immunity as my personal biggest surprise for 2013 and I'm pretty sure this album will be on my top 5 for this year! I recommend this album for fans of Brian Eno's Ambient 1: Music for Airports who are not afraid to go full electro for a minute or two.
[youtube http://www.youtube.com/watch?v=Q04ILDXe3QE]