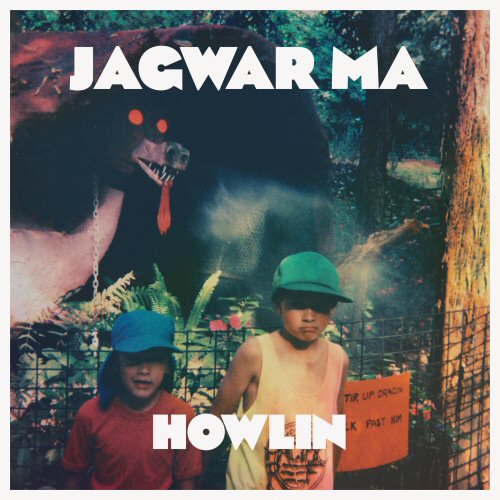 Is it right to review an album that's been out for a while now? Don't think I should feel bad about it as I'm not working for NME or another hype machine. The three blokes from Jagwar Ma have been in the game since 2011 but their first LP Howlin has only been available in Europe since June this year and it quickly got my attention, to be quite honest.
The music can be described as a mix between Django Django and Tame Impala. Not that the latter do have something to do with electronic music but I personally tend to classify Jagwar Ma's music as slightly dreamy, yet hypnotic even if it's dance music, in first instance. Maybe it's too "soft" to be considered as psychedelic but it somehow totally stimulates my hypothalamus, which is a good thing.
The Throw, for example, is the best proof that Jagwar Ma isn't just a typical electronic act. If first starts with a decent drum loop, reverb-loaded vocals, guitars and loads of other samples just to burst into some kind of dancy tune in the likes of Chk Chk Chk (a.k.a. !!!) or LCD Soundsystem. Four keeps the pace up and should be on every party playlist or whatever kids call it these days.
My favorite song is still Man I Need, not because it's some kind of stomper or something alike, but it sounds like a perfect POP song (yes, pop music can be enjoyable sometimes). So does That Loneliness as it sounds like if The Beach Boys and The Beatles had a child. A dangerous comparison, I reckon, but the songwriting has these retro references and a feel good vibe with enjoyable melodies. This is obviously due to the production which used a lot of pan gimmicky in addition with shitloads of effects and samples coming out of nowhere, plunging the listener into a motley dreamworld making it irresistible to stand still and not to dance at all. Some call it Madchester but I don't feel this music as a revival of that genre with the exception of The Throw which could be from that era, to be honest.
These blokes definitely haven't re-invented the wheel but Howlin surely is a solid release and a pleasant surprise. You should give it a go and see them on stage anytime soon!
[youtube http://www.youtube.com/watch?v=1vU6a7Haw78]