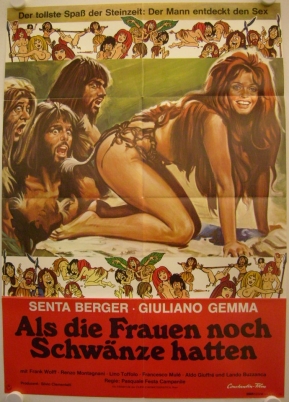 Quando le donne avevano la coda (1970) is an oldschool softporn comedy (what a surprise) by the Italian director Pasquale Festa Campanile and stars the beautiful Senta Berger, Frank Wolff and Giuliano Gemma. (The spaghetti western fans among you remember the latter two.) Another, more famous participant is beyond doubt the Italian composer and conductor Ennio Morricone who is responsible for the soundtrack. But sadly, none of these people can contribute anything useful or rescuing to this boring and tediously unfunny story.
To be honest with you, the only reason I finished this movie was because of Senta Berger, and this not because of her acting but simply because of her appearance. In the end I just could have stared at a photograph of her and I would have been spared an immature backwood/neanderthal movie by a director who seized and lifted the subject of sexuality onto a prepubescent toilet humor level. I do not know how the original dialogues are constructed but the German dubbing is an effrontery and it is absolutely no wonder that Senta Berger refused to synchronize her own role as a protest. I absolutely do understand her but after reconsidering the premise of the movie I also wonder what Miss Berger was expecting as she should have been aware that she walks through the picture lightly clad and offers her body to a leader of a gang of imbeciles in order to prevent being eaten by them. Ulli, the leader, enjoys the sex and it doesn't last long before the other members of the tribe find out about the new "game" and want to participate. What you experience next is probably the first almost-gang-rape-softporn scene in movie history.
Quando le donne avevano la coda isn't worth the money and this says it all as my copy cost 2 euros. I wasn't expecting much but even my low expectations were belied. I witnessed Germans who were funnier than this film and there is nothing less funny than Germans (sorry guys). Furthermore I really do not understand how this movie can be labelled softporn as there is more sex in nowadays' children's afternoon programme (which is nothing we should be proud of) than in this film. Do me a favour and save your money and time. Next!