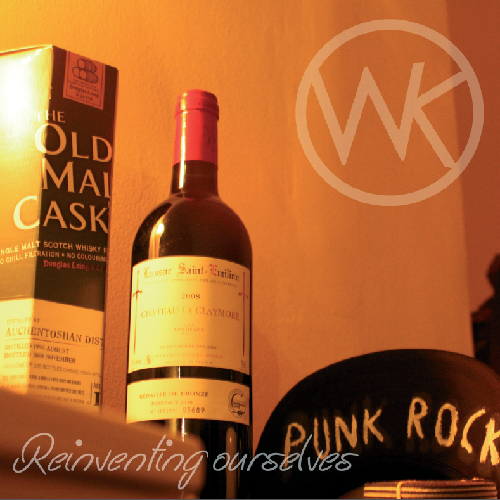 As I mentioned in my review of their debut EP, the Luxembourgish punk ensemble Weakonstruction are releasing their first full length Reinventing Ourselves on October 19th and I'm proud to present you with yet another pre-release review. So let's dive right in!
The general formula of the eleven songs remains unchanged from their known style, but you can notice a clear improvement in its execution. The first thing that struck was the way better production, which simply helps to deliver the different parts more effectively. It's not over-produced whatsoever and still sounds like everything you're looking for in a punk record, leading to a by far more enjoyable listening experience.
On the instrumental side, the general consensus is vastly more fast-paced than on the predecessor, with only one acoustic song this time around, and I can totally picture an old-school pogo going on at shows…so I'm looking forward to that! The guitar work is a mix between pop-punk and classic punk and they even added a couple of solos to spice things up nicely, resulting in an interesting blend which is bound to keep you listening to these twenty-five minutes.
The drums are pretty straight-forward and, positively, basic thus avoiding a distraction from the rest but still nicely keeping it together. I also feel like the singer has put in quite a bit of work into his vocals, both clean and screamed ones. While he can not be described as the most technical or versatile singer, you simply buy what he sings since it just sounds so natural. The semi-cliché, semi-funny lyrics underline what Weakonstruction is all about: fun! My personal highlight is the slightly alcohol-inspired song Ech wees et nik, which is sung in the band's mother tongue, since it features funny lyrics and a super catchy chorus: I could absolutely imagine this one being played on the radio!
All in all, Reinventing Ourselves is a fairly solid punk record which should be given a shot by any fan of the genre and people who want to reinvent their musical taste (see what I did there?). Visit the band's Facebook page for updates as well as a preview of the song Opinion and if you like what you hear, come to Soul Kitchen in Luxembourg this Saturday for the release show of the album! See you there!