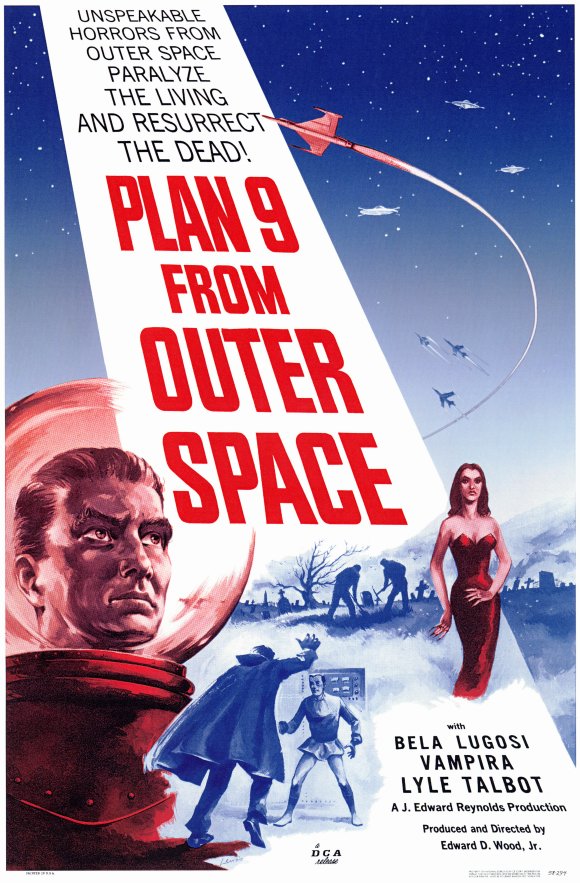 The (film) world surely does not need another extensive Plan 9 from Outer Space (1959) review and that's exactly why I won't do one. The following few lines simply include some subjective thoughts and views about the mother of all "The worst movie ever made" films.
First off: there is no way in hell that Plan 9 from Outer Space is the worst picture ever made. Even though it commands the top slot in most of the "worst movie" lists throughout the internet, it does not occur in my personal top ten and I am not even sure if it would appear in my top twenty. Why? Because it entertained me. I didn't expect an intellectual, social drama about life and death with a multi-million budget, directed by Woody Allen. I expected a b-movie science- fiction thriller film which I hoped would amuse me for the next 80 minutes, and it did.
For the few among you who haven't seen this classic: Edward D. Wood Jr.'s Plan 9 from Outer Space is about Aliens who try to contact the human beings on earth because they fear that the human race will destroy the whole universe by creating a doomsday bomb. In order to get the desired attention, the aliens implement Plan 9: resurrect 3 dead people, aim to create chaos and plan to kill humanity in order to save the universe.
Ok, Plan 9 brims over with movie mistakes, the plot is cohesionless and consists of inconsistencies. The dialogues are just damn brilliant and most of the time make absolutely no sense. The budget should have been around the price of a Tata Nano involved in an accident. The special effects are antic, even for the year 1959, and the requisites probably come from the local toy department. The acting is lousy and even the "old" silent Lugosi stock-footage, which the story is built around, is far below average.
To be honest, the movie is a disaster on every level, BUT it fascinates me and I couldn't have cared less about all this cinematic incompetence mentioned above. Plan 9 is an amiable alien/zombie Z-Movie made by people who loved cinema. You can argue about their talent and they may have had no cinematic knowledge but you can't deny the enthusiasm and the movie's charm.
I kinda love it. Watch the movie for free:
[youtube http://www.youtube.com/watch?v=l5DZhDH8eew]