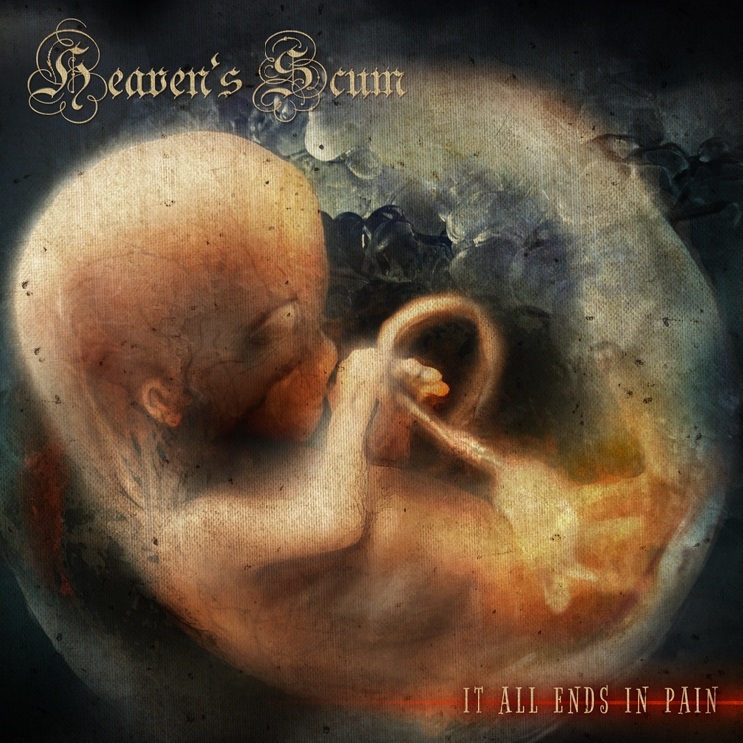 The national music scene has been quite active these past few months, and yet another band from our country is about to release a record: It All Ends In Pain. That's the title of Heaven's Scum's debut album, which is a diverse mix of many different elements from the different metal genres. Combining several musical directions is always a risky business, so let's see how it holds up, shall we?
The opener, Never Wanted, gets you really pumped with its crushing guitar riffs and fast-paced drumming, combined with growled vocals and occasional screams. This feeling lasts for another two songs, where headbanging potential waits at every corner, until it is interrupted by the first power ballad, Love, with partially clean vocals and a generally more melodic instrumental approach. A pattern that is mostly repeated throughout the fifteen songs.
The production of the album is rather old-school, with a genuine authenticity to it, but also in some parts a bit weak on the guitar sound, making it occasionally hard to distinguish the different riffs. It doesn't take away too much of the listening pleasure though, so no points deducted there.
The vocals are the thing that impressed me the most, since the singer has a rather interesting range and is not afraid to take a chance on some unconventional singing methods. While some of those techniques are not exactly perfect, they add a nice flavor to these fifty-eight minutes which prevents repetition. There are two excellent examples of his vocal prowess: Inferno and I Don't Know, which funnily enough come one after the other on the record.
All in all, It All Ends In Pain is not what I would consider a perfect record, to be honest, but one can clearly notice that the band has potential and is not lacking the skill to compose great songs. My advice would have been to maybe shorten the record a bit, and focus on one more specific style; because the few slow songs, that are inter-thrown, interrupt the listening experience quite a bit. I, for one, am looking forward to the band's evolution from here on out, and I'm confident that with time they will find their ideal sound. For more information, be sure to visit their Facebook page and listen to the song below. If you like what you hear, be sure to head to Soul Kitchen on April 19th, where Heaven's Scum will be playing their release show!