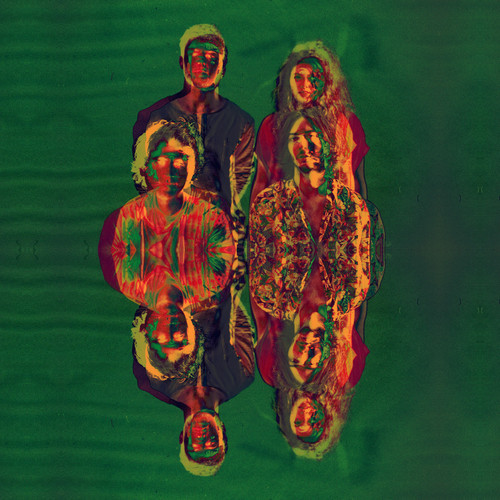 In my book, there is nothing more enriching to music than pure, unadulterated fun and soul. The London-based boys and girl of Cristobal And The Sea have both of these qualities down to a science, and it's been a long time since I've been as fervently enamored with a recent release as I am with their 5-track EP Peach Bells, which was digitally released on November 3rd.
It's impossible to describe this band without mentioning bossa nova and tropicália. As a huge lover of Brazilian rhythms, those elements were what hooked me instantly — there is a distinctly southern Mediterranean warmth to their music. Appropriately, the lyrics to Violet Tear are actually a Portuguese poem by the 17th century Brazilian poet Gregório de Matos and the chorus to My Love (Ay Ay Ay) is in Spanish.
The voices of João and Leïla flow together in beautiful harmony and blend into the dazzling psychedelic whirlwind that is their instrumentals smoothly, adding another layer of richness to the colourful soundscape. I can't help but draw parallels to the sounds of Animal Collective (whose album Sung Tongs was produced by the same guy who recorded Peach Bells, Rusty Santos) when it comes to CATS' creativity and experimental approach, especially in the final track Zorro, which is just a complete, slowly unraveling trip of a tune.
There is not much left to be said, as Cristobal And The Sea is a band well worth discovering on your own. Their ardent tropicália pop is the sonic embodiment of a safari through a tropical forest, laced with surrealistic imagery in fantastic colours and shapes. Peach Bells is a blast; don't miss it.
While you wait for the vinyl 12″ to be released on December 8th, you can pay the quartet a visit on Facebook, listen to Peach Bells on Spotify or Soundcloud and watch the trippy video for My Love (Ay Ay Ay) below.
[youtube https://www.youtube.com/watch?v=cZpV6mzsS2E&feature=youtu.be]