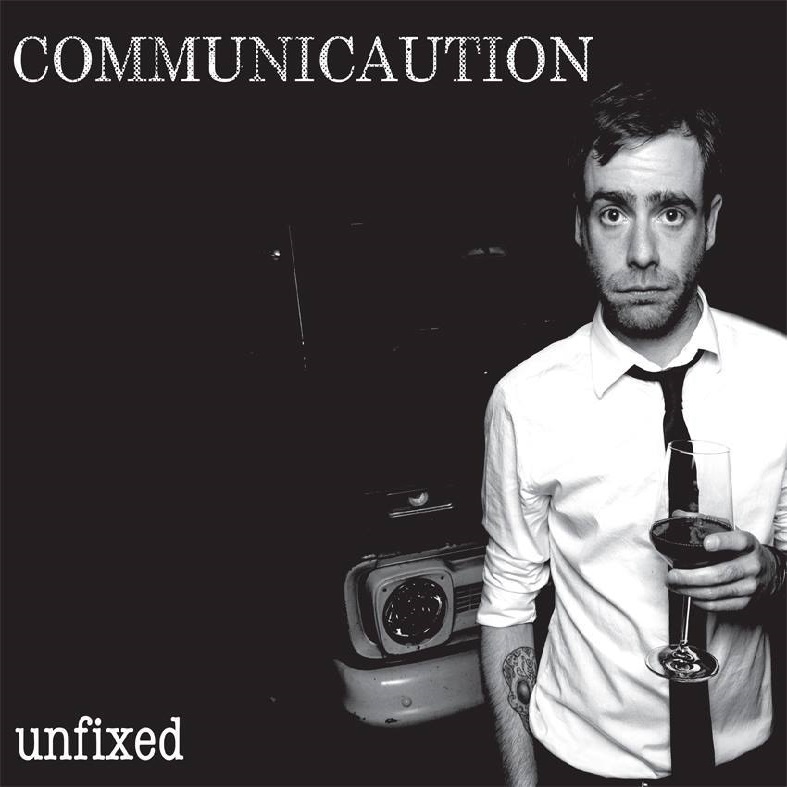 Fact: there are some extraordinarily talented musicians and songwriters that have countless song ideas and the necessary motivation to use that gift, unfortunately for every single one of those individuals, there are at least ten that churn out the same boring and uninspired crap year after year. Luckily for all of us, Eric Rosenfeld, lead singer and guitarist of Versus You, is part of the former category which is why he decided to start the solo project Communicaution in 2012. Initially, it was just him and his acoustic guitar but for his second full-length Unfixed, he has recorded some other instruments himself as well as gotten the instrumental help of Charel Stoltz.
According to the opening lyrics of the record, Eric comes up with about a hundred songs a year, which I don't even doubt, but for this one he picked twelve special ones that make a great ensemble. The evolution from Revenge! Revenge! Revenge! is quite obvious from the get-go: all the songs, except three, feature full instrumentation, including drums, bass and electric guitar as well as the occasional keyboards. However, the core of each song is still made up of the acoustic guitar and the vocals, which is something I appreciate, because it's still a different enough sound when compared to his other project.
Also worth a mention is the fact that the drums are kept very basic, in order to not distract in any way from the rest but rather add an additional layer to the sound spectrum. As a matter of fact, most of the songwriting is rather simple, usually following a clear verse-chorus-verse-chorus-chorus structure, but despite (or possibly because of?) that, each and every single second of these thirty minutes goes down like butter and clogs up your coronary arteries just as much…except that in this case it's good for you!
Let's cut to the chase: the heart of Communicaution are the, in my opinion, one-of-a-kind vocals as well as the very unique lyrics of Eric. I didn't really talk about his voice in my previous review, but I'll do so this time around: if you've ever heard him sing, I guarantee you that you will be able to tell his voice apart from at least a thousand other singers. The ever-present raspiness adds so much charisma to his performance that it's hard not to listen to him. Additionally, there is a short but sweet guest spot by Martine Becker on Come Clean, which adds an extra little something to the melancholic song…more of that please!
What can I say? Is Unfixed a good record? Totally! Does it have enough replay value to remain in your CD player for more than ten playthroughs? You betcha! Is it for everyone? I wouldn't say so, no. If you're looking to wear your dancing shoes, this probably isn't for you…but if you like to sink into the happy sad world that is Communicaution's sound, you will find everything and more than you need. Be sure to check out one of my favorite songs below and visit the Facebook page if you want to be kept up to date. Last but not least, move your bum to Kulturfabrik on December 12th if you like what you hear, where the official release party will be held!
[youtube https://www.youtube.com/watch?v=EFWFpozXJWw]