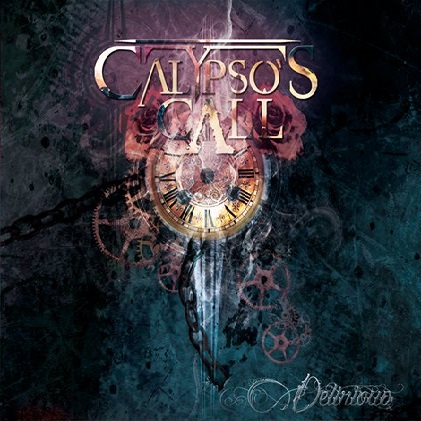 Ever since I started checking out local metal bands, back in the early 2000s, I noticed that Luxembourg was severely lacking quality in one department: male clean vocals. While we do have some phenomenal screams, growlers and shouters as well as talented female vocalists, this hasn't much changed in the past decade. You can imagine my surprise when I was introduced to Calypso's Call and discovered that they feature just what I was longing for! However, my happiness was short, since I learned that their debut Delirious is at the same time their farewell album. Doesn't matter, let's see what they delivered!
The quintet's sound is a mixture of traditional elements, in the vain of melodic death metal, and modern sounds, closest to metalcore, which should appeal to a broad spectrum of listeners. The guitars are well played, lay forth enough diversity to keep you interested and even have the one or the other surprise waiting to be heard. The drumming is to the point and mostly mid-tempo, generally keeping in the background during the songs, but exploding in terms of technicality during choruses.
While the main focus of the band's songwriting is definitely on melody, the heavier parts don't lack in headbang-potential either, thus creating an overall enjoyable experience. On the other hand, I did have one gripe during the forty-seven minutes: most songs could have been one or even two minutes shorter, because they tend to repeat themselves a bit. A fact that is forgivable though, since there are several elements like keyboards that spice up the whole thing.
Let's get down to what dragged me in to begin with: the vocals! The singer uses many different techniques, such as growls, screams and screeches, which are overall well-executed, but the fact that there is a fair amount of clean-sung parts, is what makes these eleven tracks stand out from the majority of the local bands. Furthermore, there is another premiere on here, unless I'm forgetting something: female guest vocals, provided by Deborah Marinkovic, give the title track that extra special flavor!
To end this, I'll just say that even though my pleasure with Calypso's Call was a short one, I hope that all of these guys find their way into new bands at some point and continue to exploit their talent. Be sure to check out Delirious once it's available, whet your appetite with the self-shot video below and last but not least follow the band on Facebook in order to keep up with the release date of the album!
[youtube https://www.youtube.com/watch?v=F5L8B6clzPs]