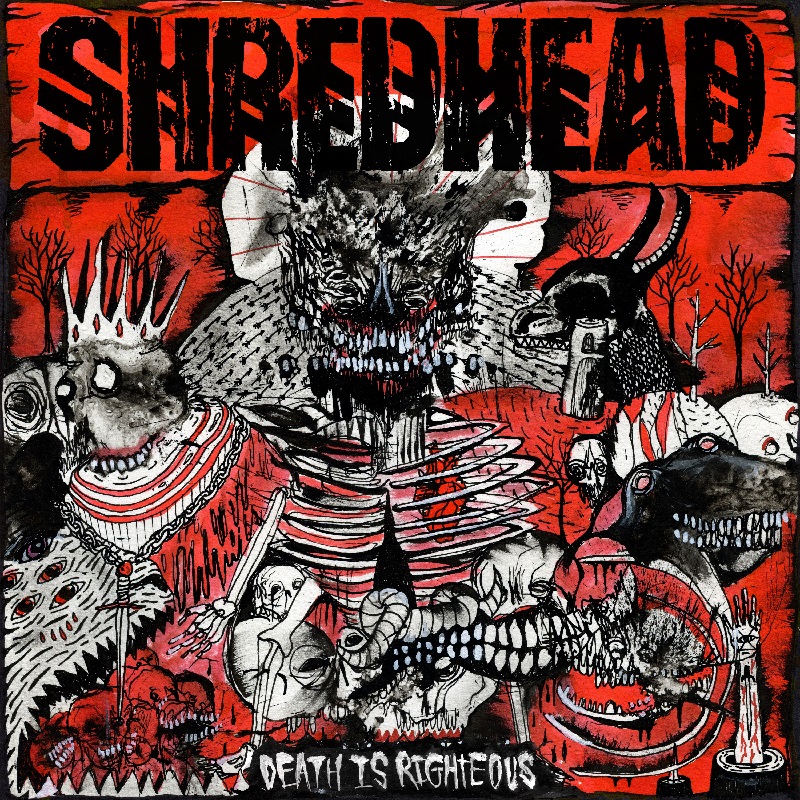 Let me ask you: what better way to start the new year than with some kickass thrash metal? Shredhead are just what you need to wake up from all the partying these past few days, since their record Death Is Righteous is every thrasher's wet dream!
I don't know about you, but I was always pretty ignorant about the fact that Israel had a solid metal scene and it wasn't until I came across Ferium in mid-2013 that my opinion changed greatly! Today's quartet is originally from the same country and helps underline its importance in heavy music, since their modern approach to thrash metal is a blast from start to finish and doesn't have to hide behind the big bands' releases at all.
The eleven songs are a pure riff fest from start to finish and shower the listener in equal amounts of groove and fast-paced shredding. The influences are very wide-spread and at times you even get brief stoner metal moments to complement the gallop riff galore. One big thumbs up from me goes to the bassist, and the producer, since his instrument is clearly audible and noticeable on DIR! The strings are accompanied by very versatile drums, that make every genre enthusiast feel right at home with their relentless tempo and diversified beats, making the instrumental front an indestructible thrash tank!
Throughout the forty-two minutes, the vocalist delivers an extremely strong performance with numerous different techniques. Showcasing impressively fast screams, deep growls, high-pitched screech-like vocals and last but not least, almost, clean vocals in a few instances. From a lyrical point of view, it's quite honestly nothing really surprising: zombies, death, violence and social criticism…but I'm fine with that. They are well written and to be frank: I don't listen to thrash metal to discover life-changing points of view.
All in all, I can only say that Shredhead is a band to watch in the near future, because their future should be a bright one…or at least they have an album in tow that has a lot of potential. I believe that you will be able to catch them on quite a few European stages this year, so don't miss out but meanwhile, check out their Facebook page and their video below until Death Is Righteous is out on January 12th!
[youtube https://www.youtube.com/watch?v=3vVV4Y9g9AM]