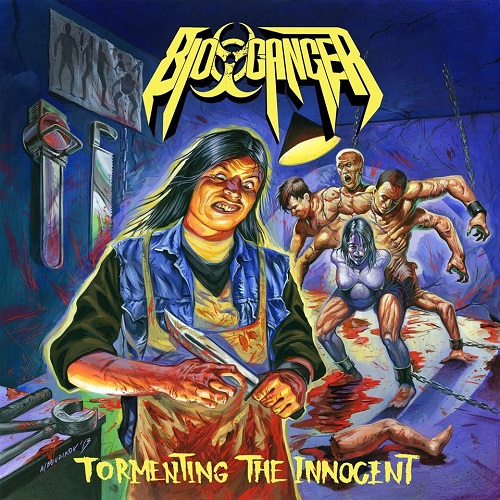 The Greek guys from Bio-Cancer are demonstrating with their second album Tormenting The Innocent how vital old-school Thrash sounds in the year 2015. With a lot of rage and a maniacal speed their opener Obliged To Incest immediately shows that they take no prisoners.
The vocals are a bit atypical as they are completely guttural and rather high pitched while one might expect a more snotty performance in their particular style of music. This might at first seem strange to the listener given the fact that it is also sometimes hard to understand the lyrics but it brings in more aggression and can definitely be considered as a unique selling point. It's a bit of a pity that the vocals are mostly on the same pitch, as there could have been more variation right here, but the great vocal rhythms make up for this.
One major focus are the infectious riffs and soli which are played insanely fast and grant the nine songs a particular quality. Nevertheless Bio-Cancer do not only rely on speed, but also understand how to write mature songs which results in great tunes like Bulletproof and the title track.
Some calmer parts like the beginning of F(r)riends Or Fiends with its use of strings are a nice variation while the short Haters Gonna… Suffer!, which adds even more to the insane speed of the album, stands out as a nice eye-catcher by adding more of the same.
[youtube https://www.youtube.com/watch?v=DbmCW-SXUPg]
This review was written by our freelancer Luc Francois from Legacy.de!