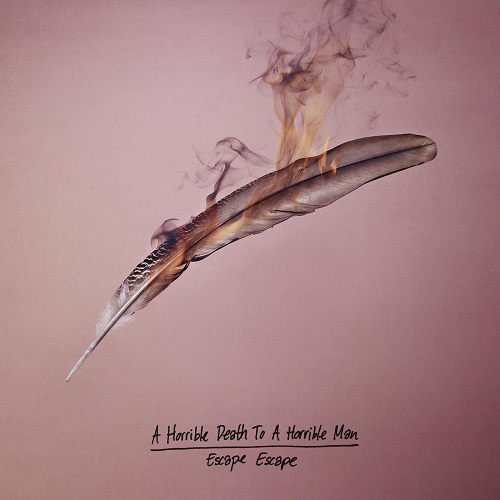 Today's a first for me, because I'm writing about another genre that I have never really listened to and while I was skeptical about whether I'd like it or not, my first impressions have been generally positive. A Horrible Death To A Horrible Man makes its debut with an interesting noise rock EP called Escape Escape, which is due to be released on March 23rd!
Due to my unfamiliarity with this kind of music, some of the following lines might be common knowledge to you, but bear with me here. Most of the time, the quartet needs a lot of momentum to get going, but once they are rolling, there's no stopping the intensity. In the groovy parts, I always get a certain stoner rock feel, akin to the slower and more intense QOTSA songs. A bit of grunge also shines through to me, and I love the resulting sound.
The Danes know how to build up atmosphere during the five songs, and even though, as I mentioned earlier, they sometimes take their time before climaxing, for lack of a better word, it's never boring. Coupled with a fittingly dirty, yet crisp, production Escape Escape packs quite a punch. Especially the last song, A Radient City Return Trip, with its Sweet Dreams-esque intro riff has quite the effect on me.
During the twenty-four minutes the vocals are arguably the thing connecting the dots and keeping the ensemble together. The singers dreamily creepy timbre hits just the spot for me and should be able to entrance the listener easily.
All in all, A Horrible Death To A Horrible Man have managed to introduce me to a "new" genre without leaving a bitter aftertaste. I strongly recommend giving them a listen below and heading to their Facebook page if you like what you hear, in order to keep up with them!
[youtube https://www.youtube.com/watch?v=CRfnos8xoYA]