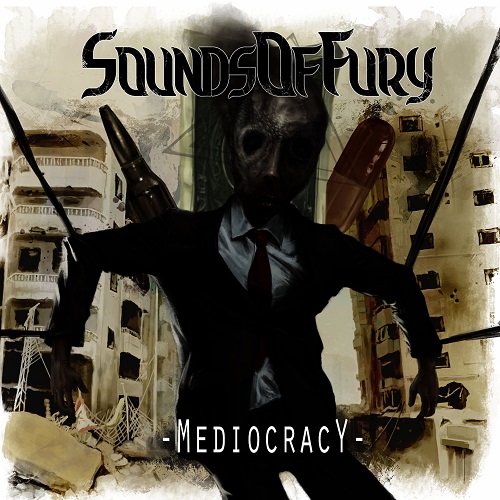 Before listening to today's album, I came up with a nice little play on words to describe it, in case it was bad…however, despite regretting the lost pun, I am glad to say that Mediocracy is anything but mediocre. As a matter of fact, the new album by Sounds Of Fury actually made me feel really nostalgic and reminded me of the good old days when I enjoyed the hell out of death metal.
The Swiss quartet play classic death metal, with a strong nuance toward the technical kind, that consists of almost incessant blast beats and non-stop double bass work, coupled with truly evil riffs. The technical side is filled by erratic licks as well as crazy-sounding solos, that blend into the grand scheme of the nine tracks quite neatly, thus creating a truly challenging listening experience.
I do have to say that the non-stop barrage of brutality does at times border the monotonous. Then again, at least to me this genre isn't about necessarily being diverse for diversity's sake, but rather about creating a tense atmosphere…and that goal is absolutely achieved throughout the thirty-eight minutes.
The only real gripe I have is the fact that the vocals have very little variation to them. At least the one style that is present, growls, is mastered to perfection and often reminded me of a certain man with an inverted cross on his forehead. No, not Charles Manson. A couple of screeches or screams would certainly benefit the ensemble a lot and add an interesting layer to the music.
While they aren't quite as versatile as their knife counterpart from the same country, Sounds Of Fury are definitely worth checking out, whether you are a fan of bands like Deicide or not, because they deliver where it matters: in your face! If I managed to make you curious, head over to the band's Facebook page and keep your eyes peeled for the official release on May 25th! Sadly, no song this time since I couldn't find anything online.