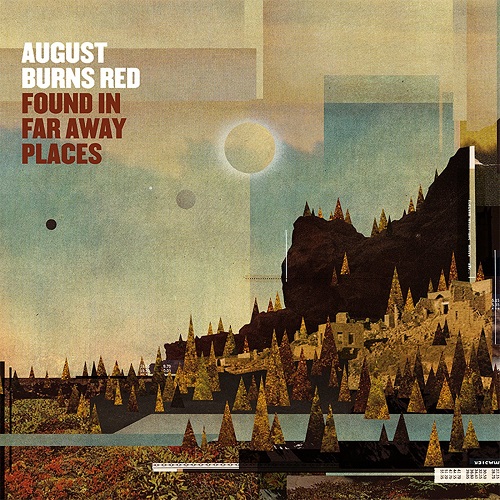 In 2013 I had a tough time choosing my top five albums of the year…so I just picked four as my number one. Two years later, one of those four bands has released the follow-up to their previous masterpiece and my excitement couldn't have been greater: I am talking about August Burns Red, who have released their sixth full-length, Found In Far Away Places, on June 29th!
What can I say? The quintet has definitely found its sound on the predecessor, that much is certain, because these eleven songs are very much in the same vein, albeit a bit more akin to their old material: the experimentation and diversity factor are two things that were maintained, but chugging parts are back with a vengeance; creating a truly eclectic feeling, with a ton of depth.
I could go over how well the Pennsylvanians master their instruments…but that's as much of a known fact than that the sun sets in the west. So let me just reassure you: nothing that changed in that department…every musician pushes his technical prowess to the limit and the songwriting is very multifaceted. But, at least that's what I think, what ABR has mastered over the course of the past two records, is the implementation of atypical instruments, without them sounding out of place or even breaking the flow of the other instruments. It is a rare feat in my opinion to make a trumpet, a clarinet, a cello, a violin, and a piano feel right at home in a metalcore song…but it works so well during these fifty-two minutes.
The vocals and lyrical themes are also in line with the band's previous works, featuring a strong performance from both screamers and highly interesting topics, with a hint of Christianity, that are just a blast to listen to. This is something I have mentioned previously, but it's one of the major reasons why I love this band: even though they are openly religious, I have not once felt like they try to force their faith on their listeners, be it through their lyrics or anything else. Another fact worth mentioning is that FIFAP contains the second vocal guest appearance in the band's twelve year history…and they got none other than Jeremy McKinnon from A Day To Remember to perform on Ghosts.
All in all, to me this new record does not exceed Rescue & Restore but it is a very worthy equal…but I think that this is mostly due to the fact that I connected more with the themes on the previous record. Musically-speaking, Found In Far Away Places is just as strong and will bring many hours of discovery to fans and newcomers alike. So, be sure to listen to the song below and head over to the band's Facebook page for more information!
[youtube https://www.youtube.com/watch?v=WqBLyF94esg]