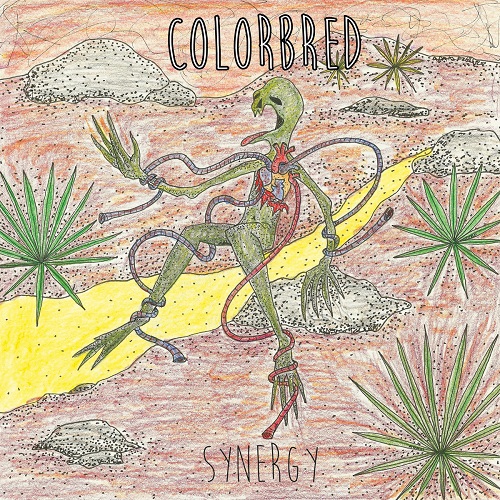 As an independent reviewer, there is nothing more gratifying than having a band, young or old, write you an e-mail asking for a review because they've read one of your articles and liked it. In my case, I usually agree without any questions asked but it definitely helps if the genre is something I actually dig myself…such is the case with today's band: Colorbred, a three-piece that has found together over the internet. They are releasing their debut EP Synergy on July 26th and were kind enough to provide me with a very early digital copy!
Having had more than enough time to go heart to heart with the six tracks, I've actually grown to love the guys' approach to post-hardcore. While it is not really innovative, since it is largely inspired by bands such as Dance Gavin Dance, Sianvar and Hail The Sun, it is clear that they are a talented bunch and the fact that they openly cite those bands as their inspirations is also a plus. Honesty is key and, as I always say, it's better to create a good copy than a bad original…even more so when it comes to the first steps as a band.
These seventeen minutes are also a beautiful testimony to what the internet can achieve, other than providing tons of amusing cat videos, since the singer, who also plays guitar, is from Spain and the bassist and drummer are from two different states in the US…yet they've managed to come up with a dynamic and varied handful of songs, which is something that some bands, where the members live in the same town can't always claim. The tracks all have a very dreamy, yet intense, atmosphere, with interestingly playful melodies and just the right amount of technical spice to keep things lively.
One truly charismatic factor in the mix is the vocal performance. Because not only does the singer have a fairly wide range and generally speaking great pipes; he also comes with a charming accent that makes his voice quite unique in my opinion. I am also quite impressed by his feel for vocal melodies and the chorus and bridge of Green Eyes is a great example that he also has a talent for catchy lyrics.
All in all, Colorbred have managed to write a strong debut EP, especially considering the fact they've only been in existence for six months. While there is definitely air for improvement, you would have to be a total ignoramus if you didn't recognize the talent that they bring to the table. The fact that they've recruited a fourth member, a guitarist, also promises great things, with the only major step left being actually "moving in" together and start playing shows….but one step after the another. For more information, head over to the band's Facebook page and if you enjoy the song below, why not throw a like their way? Enjoy!
[youtube https://www.youtube.com/watch?v=9pRIgm5vRtc]