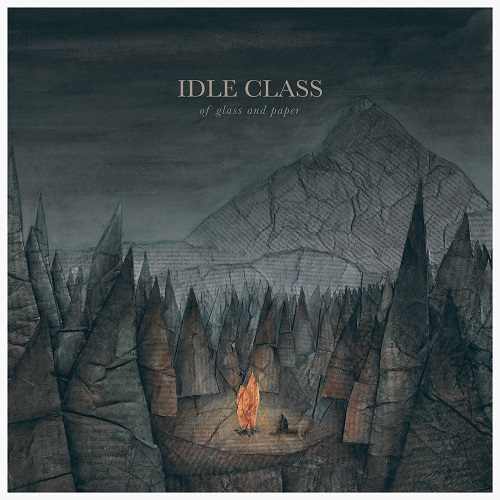 It's been a little over a year since I first discovered today's band at all-day punk show here in Luxembourg, and after reviewing a split EP they were on in October, I'm excited to say that Idle Class are back with a full-length entitled Of Glass And Paper, that is going to be released on September 25th!
What can I say? Everything that has attracted me to the quintet's sound at first, is back with a vengeance! The essence is still very much punk rock, along with the dreaminess and melodic finesse that made them stand out to me, except that this time the joy isn't over after two songs. As a matter of fact, the eleven songs allow the Germans to develop a much deeper-felt experience and thereby ensures the need to re-listen to the album over and over again.
The songwriting is nice and tight and is jam-packed with tons of sing-along-worthy passages as well as a healthy dose of heaviness and even a dash melancholy, rounding off the forty minute package quite well. Musically, I found a couple of riffs to really stand out through their intricacy, but in general there's not many "look what I can play" moments…which I totally appreciate, since the songs as as a whole are more important to these guys than comparing penis sizes…then again, what happens on the tour van, stays on the tour van.
Vocally, you are treated to clean singing and shouting, as well as a moderate amount of screams for good measure, providing a very fitting performance to the music. But, my only minor nitpick also lies in this department: the singer's accent seems slightly forced at times, which made me raise an eyebrow every now and then…but it's not relevant enough to distract from the ensemble. So no "points" deducted there.
All in all, Idle Class have managed to confirm my love at first listen for them with their new outing, and I can only recommend OGAP to every fan of the genre, since it's quite a hidden gem! Be sure to check out the song below and head over to the band's Facebook page for more infos and even a full stream!
[youtube https://www.youtube.com/watch?v=nE92Jw-lx90]