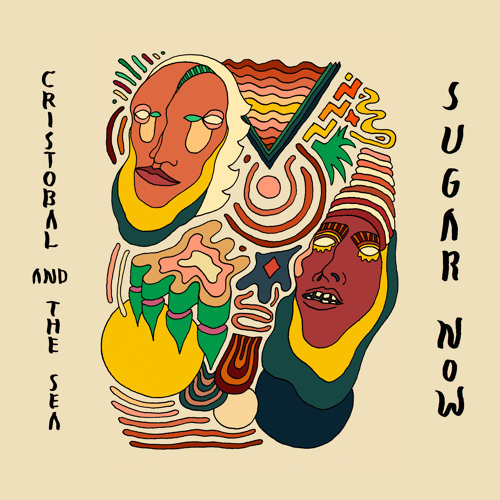 I am really glad to be back on El Gore to talk about a debut album that I, as a huge fan of the London-based quartet, had been eagerly awaiting: Sugar Now by Cristobal and the Sea! I'm obsessed with their experimental approach to folk with Mediterranean influences, and this release has been a definite musical highlight of my year.
I know comparisons are tricky, but it's less the musical similarity that makes me point it out and more the general vibe and feeling I got from the record – I was immediately struck by how much it reminds me of Fleet Foxes' spectacular Helplessness Blues. The folk element is way more pronounced than in much of their previous work, which was dunked in trippy reverb, delayed guitars, some auto tune and other spacey effects. It's less crammed, more subdued, very organic, fairly stripped down yet still big-sounding, and somehow feels close to nature. The particular way the band melds their haunting chants and vocal harmonies, flute playing, Latin riffs and at times borderline bizarre melodies creates a mystical atmosphere and invites you to get lost in a panorama of colourful sounds.
Pretty much every piece of media I've read about Cristobal and the Sea makes mention of the members' different European backgrounds. With reason, as this cultural variety definitely spills over into the album, most evidently in the form of parts sung in Portuguese, French and Spanish (the two singers' and bass player's respective native languages). The lyrics themselves – sometimes abstract, other times more concrete philosophical musings – support the instrumentals in painting vivid pictures.
There are upbeat moments, but there's also an ever-present profundity, perhaps even slight melancholy, hanging over the album. Honestly, if I had to sum it up succinctly and in less descriptive terms, I'd just call it beautiful. You can feel the passion and emotional honesty of the musicians shining through. It's a truly refreshing spin on indie folk music that will be a delight to everyone who digs the warm sounds of Latin America and the Iberian peninsula.
The band is active on Facebook and other social media platforms, and Sugar Now, which will be out on the 2nd, can be pre-ordered here, as well as on iTunes and Amazon.
[youtube https://www.youtube.com/watch?v=Vc87JzsT52o]