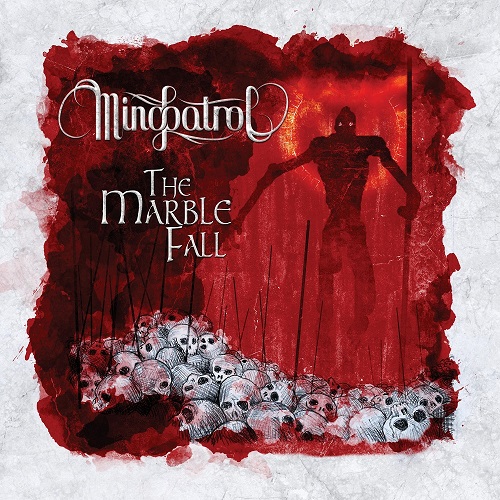 Imagine this: you start a musical project with your good friend, you write, record, produce and release it all by yourself in complete DIY fashion and it is met with with mixed to negative reviews. What do you do? I'll tell you what you should do: dust yourself off, recruit some more like-minded individuals, start rehearsing as a band, play live shows and start writing the next record! That is exactly what Mindpatrol did after the release of Downfall Theatre in 2013, which is why I have the great pleasure of writing about their upcoming output, The Marble Fall!
Back when I reviewed their debut album, I praised them for covering a broad spectrum in their music, and I also mentioned the well thought-through songwriting…boy, was I a fool. Because even though they have narrowed their range down to what I would call progressive power-death metal, the songwriting during these twelve tracks is riddled with so many catchy hooks, riffs and melodies that I don't even want to start counting. It's clear that the omission of certain elements from the predecessor has greatly improved the sextet's sound!
At the core of The Marble Fall is an epic story that is, admittedly, very similar to the biblical downfall of man, but with a new twist to it. In order to do this opus, that is recounted in sixty-two minutes, justice, Mindpatrol has incorporated some rather classical instruments such as trumpets, violins and organs, which gives the entirety a much more majestic vibe, without being cheesy though.
Despite already praising the improved songwriting, I can't help but highlight the fact that the vocals have also further improved. Mainly because the clean vocals, which were the main caveat on DT, have been completely scratched and replaced with shouted singing. Furthermore, I feel like the growls and screams have also gained in strength, and especially the screeches are almost like the cries of the undead. Add to that a much better sense for vocal melodies and you've got a very promising vocalist! Hell, even his accent has become much more bareable…still not quite disappeared though.
In closing, I must say that the evolution that Mindpatrol have undergone in two years is quite remarkable…and a little bird tells me that they have not even reached their final form yet. Be sure to check out The Marble Fall when it's released digitally on October 16th and, if you like what you hear, move your ass to the Schungfabrik in Differdange on October 30th for the release show of the record! In the meantime, watch the band's music video below and head to their Facebook page to keep up with what else they have planned.
[youtube https://www.youtube.com/watch?v=744OEfNJRfE]