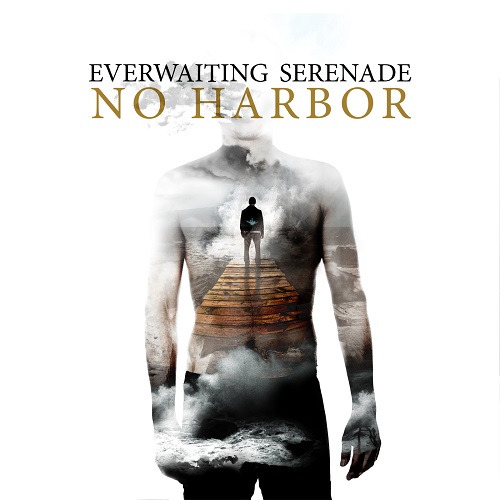 Ten years. Unless you speak of the earth itself, that's a long time. Even more so if a band reaches that milestone in its existence, since in today's music industry that's becoming more and more rare, with many formations splitting up after a record already.  Which is why I am delighted to write a review about Everwaiting Serenade, who are celebrating that achievement with the release of their new record No Harbor on October 17th!
I must admit that I wasn't a huge fan of their previous record All Rise, which dates back to 2011, since it didn't have any real musical highlight to me…but a creative break of four years has definitely remedied that and has helped the quintet (re)define their style! While the metalcore elements have taken a step back, and made way for a more hardcore-orientated sound, they are still found in the essence of the ten songs in the form of melodic riffing and the genre-typical breakdowns.
EWS have always been fond of chugging rhythms and that hasn't changed either but, especially due to the truly massive production, it's very well-blended with the various instruments, allowing a clear distinction of the other things going on in a song. Sadly, my only gripe with these thirty-six minutes stems from said chugging though. I've said it numerous times in conversations, but I don't recall ever bringing it up in a review: Luxembourg has tons of amazing musicians, but very few good songwriters. While the songs all have a clear structure and even some truly memorable parts, I was constantly waiting for the massive hook or chorus to come and hit me in the face.
However, this doesn't mean that No Harbor is your standard uninspired hardcore release either, quite the contrary actually. Especially since the vocals contribute a lot to the variety, since there are numerous sing-along parts in the form of crowd chants and catchy one-liners. While the vocalist has refrained from any vocal style other than screaming, I feel that he has vastly improved and it elevates the ensemble to a new level.
All in all, I'd say that Everwaiting Serenade have managed to capture that which makes them a local force to be reckoned with: raw energy! It might just be personal preference but I'm more than confident that if they iron out the above-mentioned part, they will be here for at least another ten years. Either way, I'm excited to follow their future and if you want to do the same, be sure to head over to Facebook and watch their new video for the title track of No Harbor! Last but not least: Melusina is the place to be on October 17th if you want to experience them live and get your hands on the record!
[youtube https://www.youtube.com/watch?v=G_sxsNJ0NX8]