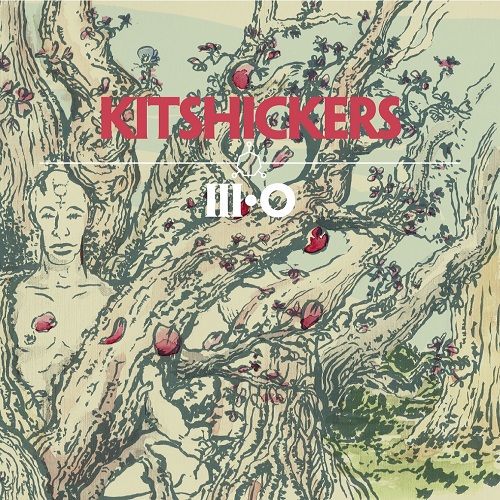 Instrumental music: you either love it or you hate it. Generally-speaking, it's difficult for that type of music to win me over, which is why I wasn't a huge fan of today's band in recent years. But as chance has it, the Luxembourgish progressive veterans, Kitshickers, are returning to their roots and have a proper vocalist again, instead of guest appearances. For their seventh album, III.0, they've recruited Yann Dalscheid, who was the singer of An Apple A Day for quite some time and has recently been added to the Scarred roster, to add a fresh but familiar layer to their complex sound spectrum.
For the second time in a row the band has decided to use the crowdfunding model, in order to cater to the exact needs and wants of their dedicated fanbase, and thus set out to best their previous effort. To cut to the chase, spoiler warning: they absolutely achieved that goal and then some. While their sound is still recognizably them, I feel like they've shed some of the overly experimental fluff in favor of a more concise and, for lack of a better word, streamlined style. Don't get me wrong though: these six tracks are anything but simple and boring. Massive riffs coupled with hard-hitting drumming hammer you into the ground, just to pick you up again and repeat the process.
No need to lie here: the concept, birth and death, behind this new record is one that has been done a million times and yet the quintet managed to captivate me on my first listening session and have kept doing so even after the tenth time through. But be warned: if you're going to take this ride, you better bring some spare time and the ability to let music have an effect on you, because at one hour and one minute, III.0 is not the type of record you put in while you run and grab some bread from your local shop. At least in my opinion, this is the kind of album where you only get the full experience if you listen to it with headphones and are able to forget about your surroundings.
No small part of this beautifully immersive journey is due to the resurfaced (almost) permanent use of vocals. When I first read that Kitshickers got a new vocalist I was slightly excited, then upon learning who it was going to be I was initially skeptical…since I was definitely underestimating what the guy could do. Finally, when I got to listen to the finished product, I was totally blown away: I knew he could scream, growl, shout and pretty much do everything in the repertoire of a "typical metal vocalist" to a T…but when he switched to perfectly sung clean vocals after an initial scream at the beginning of the first song, I had total goosebumps that lasted for the remainder of the track.
What can I say? III.0 is not a record for everyone, especially in today's fast food world…but if you allow yourself some time off and dive into the trip that the band has cooked up for you, I can assure you that you will not be disappointed. And if for some reason you are not into the vocals, there is the possibility for you to listen to the entire record in a purely instrumental form also. Head over to the band's Facebook page for more information and do yourself a favor and move your butt to the Rotondes in Luxembourg this Saturday, October 22nd, since that's where the guys will be holding the release show for their new baby! See you there!