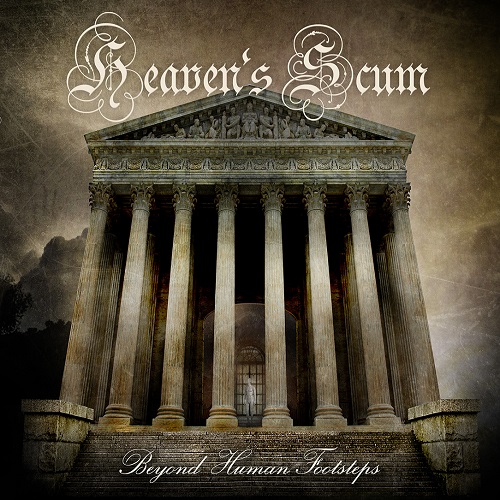 It's been almost three years since the local Heaven's Scum released their debut It All Ends In Pain, a record that had its fair share of flaws but essentially was a solid album. The quartet has been quite active in the meantime, playing gigs and writing new material, which they've recorded and decided to fund via crowdfunding, a concept that no longer needs an introduction these days. The result is called Beyond Human Footsteps and I've had the privilege of getting early access to it in order to write down my thoughts.
Back in 2014, when I reviewed the debut album, one of my major gripes was that the different musical styles didn't always blend together very harmonically, thus taking the listener out of the experience. I am happy to report that the guys have gotten rid of any unnecessary fluff and that the new and improved sound is a lot more concise, settling in in the modern death metal genre.
Another aspect that was slightly lacking in quality on the predecessor has also been improved: the production. While the general approach of the instruments remaining as natural as possible is still the same, the methods of doing so have become drastically better and they make the eleven songs sound extremely crisp. The songwriting itself has also, I feel, seen improvement and everything comes across as much more mature and well thought out. A good example of this can be heard on the song They All Died, a mostly instrumental song which finishes in an epic interplay of groove, intricate guitar parts and just a well built atmosphere.
The selling point last time was hands down the diversity of the vocals and I'm happy to report that they are still just as strong and impressive during the fifty-three minutes of Beyond Human Footsteps. The improved production quality also contributes to them hitting harder than previously and better displaying the frontman's vocal prowess. Lyrically, there are a couple songs that stood out to me for different reasons: Bow Down To The Crown, since it has this catchy growl-along chorus that could become the band's anthem and the truly disturbing The Dead Don't Judge. I'll let you discover for yourself why that is the case.
All in all, Heaven's Scum have without a doubt managed to take a huge leap in the right direction and know exactly how to construct a highly enjoyable listening experience. I, for one, am very much looking forward to what the future holds in store for these guys and I hope that the people will enjoy Beyond Human Footsteps, when it's being released on March 18th, as much as I did. There will be a release show at Kulturfabrik on said date to celebrate in style, so be sure to bring your dancing shoes. In the meantime, be sure to head over to the band's Facebook page for more information!