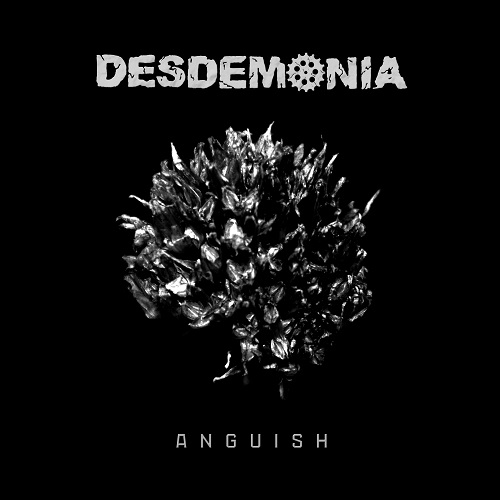 The death metal titans from Luxembourg, Desdemonia, are finally back with a new album in tow! With a career of over twenty years and this only being their fourth release, the quartet might be one of the slowest bands out there when it comes to output. But I'd like to tell you whether they're like a good wine, and the wait for Anguish was worth the while, or not!
If you are familiar with the band's previous work, one motto springs immediately to mind when you put on the new record: why change a winning team? The trademark Desdemonia sound shines in all its glory, but with a fresh coat of paint slapped on it, which truly revitalizes the band's modus operandi. The drums sound and feel like a tank that's relentlessly mowing down everything in its path, and their ferocity is only rivaled by the bite of the guitars.
It is worth noting that the string department has seen a slight change of personnel, and the new guitarist has definitely brought in a breath of fresh air, while also understanding and maintaining the sound that makes the band sound the way it does. Endless Fight, the song below, is a prime example of a combination of both worlds: crushing riffs on one hand, and on the other hand a melodic aspect that lifts the song to a whole new level. Hell, there's even a freaking harmonic part in there!
I feel like the guys didn't set out to re-invent the wheel with these nine songs, but instead put a fresh set of tires on there, and oil it up nicely…and boy did they achieve that. The new material will still make you want to bang your head until you suffer from severe whiplash, but it also provides, dare I say, growl-along choruses that will incite a lot of crowd participation at gigs.
You can't speak about Desdemonia without mentioning the powerhouse that is their vocalist, and bassist, who delivers another stellar performance during these almost forty-eight minutes. Truly vile growls go hand in hand with soul-shattering screams that round off this thrilling death metal ride just perfectly. The icing on the cake is a really massive production, that lets every note rip even harder into your eardrums.
All in all, the fans' wait is without a doubt being rewarded and the quartet delivers another strong entry into their catalogue, despite it having taken them eight years. Make sure to listen to the song below, and head over the band's Facebook page for more information regarding the release. Since it's being split in two, so to speak: the official release and a listening party will be held this Friday at Rock Solid; and a release show will take place on April 14th at Kulturfabrik! See you there, when it's time to schalalalala!
[youtube https://www.youtube.com/watch?v=BvfV52b1v1o]