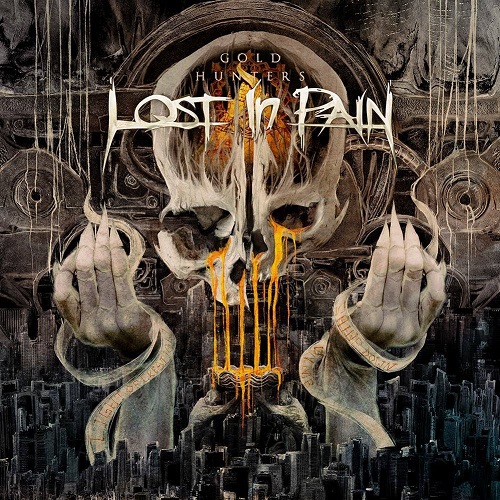 Something that never ceases to amaze me, even after many years of listening to and writing about music, is how artists always find ways to improve on something that has already been good to begin with. Sometimes I can exactly pinpoint what I feel is the biggest addition, but more often than not I am not quite sure what makes me like a release better than its predecessor; maybe it's just because it's new? I am pleased to present you one of these cases today, since Lost In Pain are about to release their third full-length, Gold Hunters, this Saturday!
First off, let me get one thing out of the way: almost ten years into its existence, the quartet has definitely shed its undeniable initial inspiration, from a certain Bay Area band, and matured into its own sound. While it's still essentially thrash metal, there are a lot more experimental and even progressive touches to be found this time around, which elevate all the compositions onto a new level.
I've praised it in the past, but in this case I don't mind repeating myself: LiP's feel for writing a coherent song, with recognizable parts and catchy hooks, never fails to impress. The eight tracks are chock-full with all kinds of riffs, ranging from headbang-inducing groovy to neckbreaking heavy, that are a pure joy to discover with all their little intricacies. I feel like the guitarists' skill has even further improved, or maybe it's just a matter of having a different goal while writing, but what I can tell you is that I would point towards that being a major factor why I like GH even more than Plague Inc.. The mind-blowing solos are, of course, back with a vengeance as well.
The drums have also seen an improvement, in two different ways: first off, to me, they have slowly moved out of the shadows and they're stepping further into the foreground and, secondly, they just sound so much richer and imposing. The latter is also absolutely the case for the bass, which just sounds really good and is in great tandem with the percussive elements throughout the forty-one minutes.
The vocals are the only thing that I found to have remained fairly stagnant, which is not necessarily a bad thing, since I already liked the improved performance a lot the last time around. I would say that the technique has been solidified and, along with the great production quality, the vocals are in a very good place.
To sum things up, I would say that Lost In Pain have matured very well, and that Gold Hunters is a more than worthy successor to their 2015 endeavor. But why talk, or write, more when you can simply listen to the first single below and visit the band's Facebook page for additional information? Also, if you like what you hear, be sure to move your booty to Rockhal this Saturday, April 7th, where the band is playing a release show!
[youtube https://www.youtube.com/watch?v=yI4pf6c2YFc]