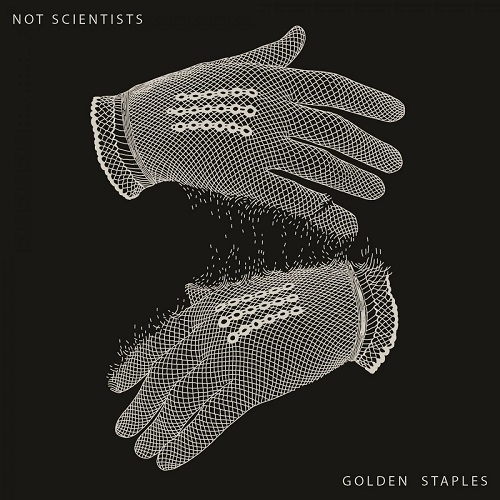 What always makes me happy is when I meet touring bands, that I've reviewed in the past, again, and we catch up and I maybe get the latest scoop on an upcoming endeavor. Such was the case with Not Scientists, who I had the chance to catch last November at a local gig, and I was delighted when one of their vocalists told me that they'd be releasing a new full-length in early spring of next year…so this year! And here we are now, a few days before the release of Golden Staples and I'm delighted to give you a first impression of it in written form!
It comes as no surprise that the Frenchies stay true to their minutely refined sound; quite the contrary I'm very glad that they do! Since I was a big fan of their mix of melancholic, yet happy-seeming, punk rock from the get go and I couldn't have imagined anything that would have been a logical, read functioning, extension of it. Especially because, contrary to Mister Malmsteen's beliefs, sometimes less is more after all.
What I like best about the quartet, is their ability to make you recognize them immediately, yet bring enough variation to the table among the ten songs, to avoid boredom or saturation and even have several eyebrow-raising moments. One of those is the inclusion of, what I think is, a Güiro on the song Sky On Fire; especially because it's fairly inaudible at first and during the end of the song it really hits you right in the face.
Alongside the gleefully-sad instrumentation, the lyrical themes have also generally stayed the same, with memorable choruses with sing-along qualities that make you smile on one side of your face and shed a tear on the other half. The one thing that has changed is the production of the record: while I commended the choice of a rawer approach on Destroy To Rebuild, I think I like the more polished sound on this one more after all. You are also treated to the longest song the band has written thus far, clocking in at a little under six minutes, and it's without a doubt the perfect closer to a great album. Fun fact: at thirty-seven minutes, twenty seconds, the new album clocks in at exactly thirteen seconds less than its predecessor.
All in all, Not Scientists might not have changed or evolved a lot, but personally I am a strong defender of the "why change a winning team" philosophy, so I am absolutely satisfied with Golden Staples, and I sincerely hope that you will be too! So, if you're ever going on a roadtrip, make sure to bring this one along, since it has an opener that will bring a smile to your face, guaranteed! For more information, you can head to the band's Facebook page and be sure to listen to the song below!
[youtube https://www.youtube.com/watch?v=eKcPz5W1dmg]