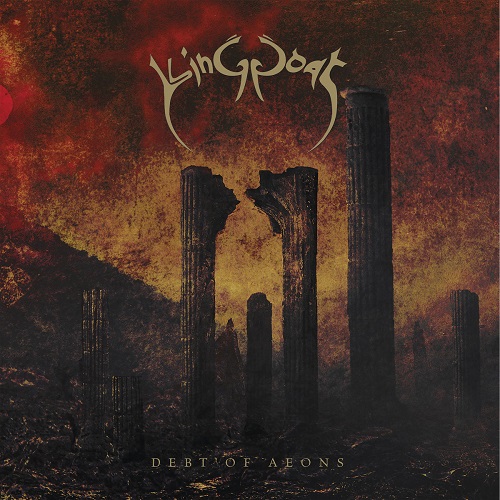 As the saying goes: everything comes in threes. Today marks the third review of a band's third release, in a row, and I could not be happier to end this hat-trick with a genre I only dabble in very rarely: doom metal! Ever since giving them a go four years ago, King Goat have managed to tickle my fancy for the genre, and since their new full-length Debt Of Aeons is just around the corner, it seems only fitting for me to take an early look at it and try to whet your appetite!
I'll just be upfront: I already held high praise for the quintet's previous record, because it was a serious step up from its predecessor, but I will have to add some more of it, since they managed to outdo themselves in virtually every aspect. The six songs, seven if you count the interlude, still have that sense of grandeur and all-enveloping atmosphere about them, but they also come with a new layer of je ne sais quoi. I want to say that it's an even better understanding of songwriting than previously, but it could also stem from the incredibly well-done mixing.
The afore-mentioned improved songwriting is clearly palpable in the way the songs are structured: away with entire songs being devoted to one direction, be it calm or heavy, and welcome to, on average, eight minute epics that take you a journey through time. The album also packs the shortest song the band has written to date, which at the same time marks their first instrumental track, and it shows quite nicely that they can definitely build up tension without spending close to ten minutes on it.
While these forty-eight minutes, without a doubt, hold my favorite riffs of KG thus far and the drums have also gotten a much more prominent role in the band's soundscape, it is still the singer that hammers home how much potential these guys hold in their grasp, to make it big. I've raved about him in the past but I can only repeat myself: the range this man has, just blows me away and I even feel like it has expanded just a tad bit further this time around. There is a scream on the title track that gives me the chills every time I hear it…truly good stuff!
There's not much more to say other than what I said last time: this is how you advance as a band, by bettering every aspect as much as you possibly can and never giving up. Honestly, if you are even the slightest into metal and want to support a bunch of talented musicians, do yourself a favor and listen to Debt Of Aeons when it's released this Friday, April 20th, and let King Goat take you on a little trip! For more information you can visit the band's Facebook page and check out the lyric video below!
[youtube https://www.youtube.com/watch?v=tVO2chSz3bs]