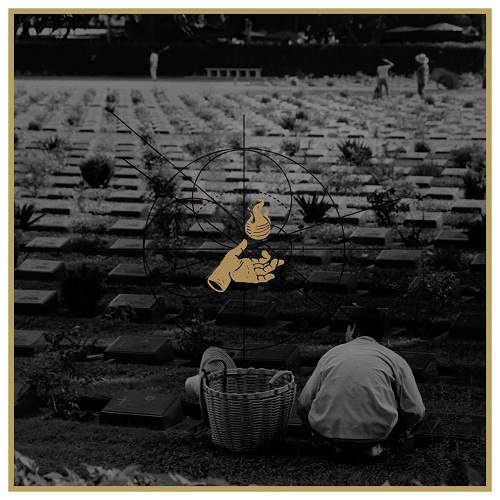 One of my favorite aspects about art in all of its forms, is that it's dynamic and malleable: what might start as one idea, can end up being something completely different once it's reached its final form. Today's candidate is a prime example of such a metamorphosis, since Royal Coda, as it's called today, was once destined to be a solo project, then turned into two-man-project and finally ended up as a three piece…but more on that in a bit. I was fortunate enough to get an early listening opportunity to the band's self-titled debut album and I'm absolutely stoked to give you thoughts on it!
To get things rolling, let me sum up real quick what, or rather who, the band is: Sergio Medina, guitarist of Stolas, Sianvar and, very recently Eidola, had been working on a solo record for quite a while, before asking Joseph Arrington of A Lot Like Birds and Sianvar to perform the drums on it. At the time the former was also providing vocals, but as time grew he was less and less sure of his performance and, as the stars aligned, that was when he saw the potential of recruiting Kurt Travis, formerly of Dance Gavin Dance & A Lot Like Birds, as a vocalist…and that was the birth of Royal Coda.
With that out of the way, let's get to the meat of it! The trio's musical direction is best described as experimental rock with a very progressive touch, which doesn't come as a surprise to those who are familiar with the individual members' previous work. One thing that is clear, is that each one of them brings their A-game to the table and while you can clearly recognize their unique style in their performance, none of the ten songs feel like a rehash, or even like something that would fit in any other of their projects, in the past, present or future.
From an instrumental point of view, the record has a fairly melancholic and pensive feel to it, while never truly going down a somber path, which is mostly due to the slightly more upbeat melodies and rhythms that are thrown in fairly regularly. However, the lyrics and also general vocal performance add a whole other layer of loss and separation to the spectrum.
I am fairly certain that this debut album will not appeal to everyone at first, but I can promise you that if you let these thirty-four minutes sink in, you will be rewarded with one brilliantly composed, and produced, emotional ride. I think a prime example of that is the track See Them Faceless, which has an incredible build-up with extremely complex drum patterns, a catchy guitar melody before and one of my favorite vocal melodies during the chorus. Still gives me goosebumps after the umpteenth listen.
I feel like that this debut album must have been of a mostly (self)therapeutic nature to the involved musicians and while I do love that type of record a lot, I am even more excited to see what the future holds for Royal Coda! In order to keep in touch with what's going on with them, head over to their Facebook page and make sure to give the song below a play, to tide you over until April 27th, when this beauty is unleashed.
[youtube https://www.youtube.com/watch?v=xzqsML-hDpo]