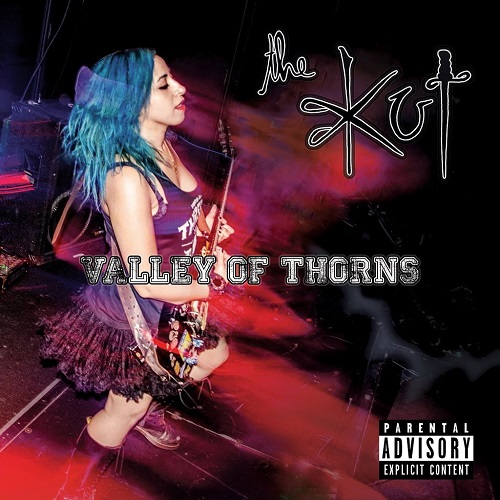 Perseverance. In my opinion, probably the most important quality an artist should possess, aside from talent, if they want to be successful. A little bit over eight years into their career, The Kut are finally unleashing their first full length record on the world tomorrow and I had the opportunity to have an early listen to Valley Of Thorns, so let me give you my first impressions!
For those unaware, the trio's sound is best summed up as grunge, with an attitude. Especially the guitar sound is very reminiscent of the good old nineties with the fuzzy distortion and the bite that stems from the interplay with the bass. The drums also pack a punch when it is appropriate, but they never try to outshine the stringed instruments; a fact that strongly works in favor of these thirty-nine minutes.
While this is the first full-length of the Brits, it is worth mentioning that they have released two EPs in the past four years, and that half of the ten songs on here are from the previous releases, which I personally find a smart move. Only slight downer is the fact that the songs were re-used exactly as they were, rather than being re-recorded or freshly mixed, but since they were on a very respectable level to begin with, it doesn't impact the entirety as much as you would fear.
While die-hard long-time fans of the band might yearn for more new material, including a, so to speak, greatest hits of the old material is a good introduction to newer fans, which I'm sure this record will attract. On the bright side: the new songs showcase an interesting evolution in the band's sound by being more guitar-driven and generally heavier, especially the song I Am Vain.
All in all, I consider Valley Of Thorns a well-rounded record, which merges the old with the new and should open quite a few doors for The Kut in the near future! You can find more about the band on their Facebook page and get an impression of their sound below.
[youtube https://www.youtube.com/watch?v=t5RxiauMXhg]