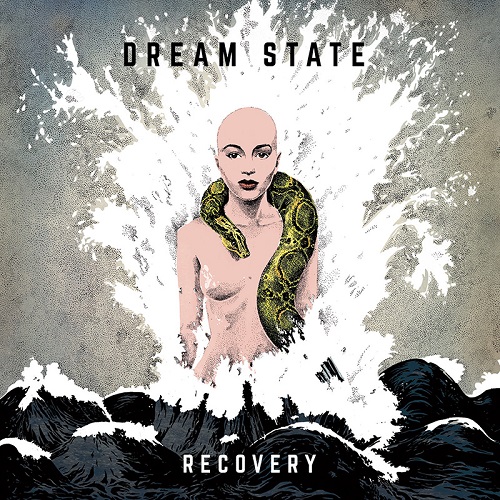 Word of mouth. It's always been a thing but there's no denying that the rise of social media, as well as streaming platforms, has given the term a whole new dynamic and getting your music to a wide audience has never been easier. However, this also exponentially increases the one-hit-wonder phenomenon, where a band might get a million views on their song, but follow it up with one mediocre song after the other. Long story short: today I am going to take a look at Dream State's new EP Recovery, which is due to be out this Friday!
With a little over three years under their belt, the quintet is still fairly fresh but this is already its second EP, with Consequences being the title of the first one, and the expectations are fairly high, since the opener has garnered above five million views on YouTube at the time of writing this review. And just to get the tension out of the room: the Brits are anything but a one hit wonder! The four remaining songs deliver exactly what enthusiasts of White Lies wanted: super melodic and energetic alternative rock, that is often venturing into post-hardcore.
While Recovery is very similar in length to its predecessor, at twenty minutes, there are two key differences: first off, the production quality is much more solid and every guitar stroke and drum beat hits that much harder and more efficiently. Secondly, and more importantly, the songwriting has vastly improved as well! The different parts flow together way better, the instrumentals have much more room to shine and no longer serve as mere backdrop to the vocals. Personally, I feel like they all stepped up their game tenfold, since some of the guitar parts will get stuck in your head after the first listen.
To be fair, the vocals are, arguably, still the major focus and rightly so, because the vocal prowess of the singer is definitely playing a major role in the band's success. She perfectly alternates between her powerfully soulful cleans and her demolishing screams, while delivering an impeccable performance. The lyrical content deals with addiction and all the ramifications that come with trying to give it up, such as anxiety, but never dives into the negative. The result is many a memorable line and super catchy choruses that have a very uplifting tone to them.
All in all, Dream State have hands down eliminated any doubts about them not being able to follow up on their initial success, and present us with five solid tracks full of emotion, that are worth revisiting over and over. Be sure to check out the video below and head over to the band's Facebook page for more information, such as their upcoming tour that features several shows with Babymetal!
[youtube https://www.youtube.com/watch?v=yE63XBK-bhI]