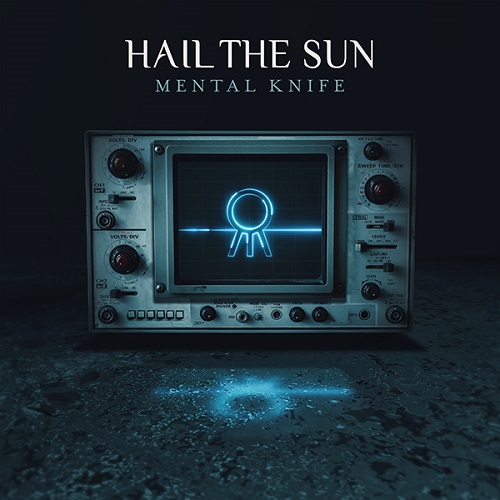 Today, I have the pleasure of writing about a record that will undoubtedly end up at the very front of my annual top ten. A mere two years after their last highly acclaimed full-length, Culture Scars, Hail The Sun are about to unleash a fresh one on the world, entitled Mental Knife. I was fortunate enough to get early access, and I am not lying when I'm saying that I've jammed it non-stop ever since.
If you are not familiar with the quartet, let me preface this by saying that they play fairly technical, yet accessible, post-hardcore and are well known for their erratic and hectic live performances where the vocalist also, for some songs, plays the drums. I actually had the opportunity to catch them open for Silverstein in the UK last December, and they have pretty much become my new benchmark of what a performance should be like. Anyway, onto the important: the new record!
While the predecessor was slightly less chaotic and heavy, this new one is a lot more like the Secret Wars EP the band released in November, which itself was a mix of CS and Wake, their arguably most celebrated record amongst fans. Mental Knife expands further upon the concept and does everything better, in my opinion: the melodies are way catchier and more diverse, and the heavy parts really smack you in the face so hard that you need a minute to recuperate. A stellar example of both worlds can be found on the track Arcane Justice, which is not only a masterpiece from an instrumental point of view, but also attacks the topic of sexual abuse, unless I'm completely misinterpreting the lyrics.
While I'm at it, I would be at fault if I didn't point out the importance and beauty of the lyrics on Mental Knife, or rather of HTS' lyrics in general. A lot of often tabu or difficult topics find their place amongst these eleven tracks and are treated in a very poetic fashion. One recurring theme for example is addiction and the recovery, and the associated challenges, from it. One quality that I love especially about Hail The Sun's sound, is also present on these forty minutes: every track has a dreamy undertone to it, and transports you straight into the world that the band has created for their listeners. Maybe that's just me though.
In closing, I had no doubt that the fourth full-length would be a great album, but I was definitely not prepared for this banger! So, do yourself a favor and give the song below a listen and if you like what you hear, head over to the band's Facebook page to keep up to date with the release of Mental Knife on September 28th! Long live swancore!
[youtube https://www.youtube.com/watch?v=w2SczshdOGE]