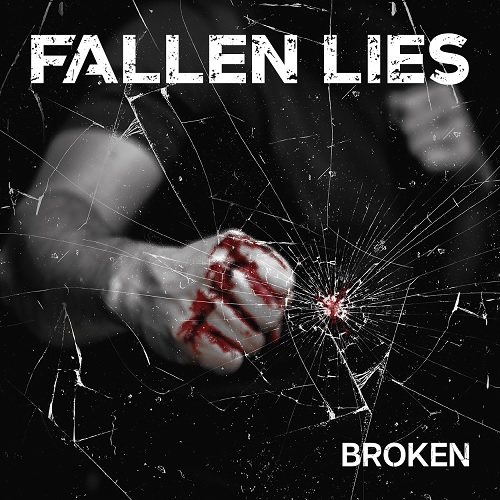 Four years can be a long time, but especially in these recent years it feels like they flew by quite quickly. Four years for a band, however, can hold quite a few changes and such is the case for Fallen Lies, who are about to release their sophomore album Broken with a new vocalist at the helm. I had the chance to get quite a few early listens in and want to share my thoughts.
The quintet stays true to its, dare I say, signature style of blending fairly accessible alternative rock with a handful of thrash influences, yet never fully crossing over into alternative metal. The mixture worked well on their debut, Confusion, and it feels even further refined on these ten new tracks.
Where I previously remarked that the guitars were arguably the, instrumental, stars of the show, I feel like this time around the guitarists looked at each other, nodded and cranked the dial up by another notch, delivering both highly melodic and at times heavy riffage. I also can't get rid of the feeling that the song No Place For Us pays homage to the two influential bands I mentioned in my previous review: Alter Bridge and Metallica. Because the chorus and bridge riffs seem to pay tribute to both bands respectively.
Contrary to last time, both the drummer and bassist have a lot more room to shine on Broken. With the drummer, especially, laying down some tasty drum parts that no longer just serve the song but also display a lot of variation.
However, the biggest change the band has gone through since the release of their debut is the new vocalist, which fixes the main, albeit minor, issue I had with it: the new woman with the pipes does not hold back in any way when it comes to her vocal performance. It is clear that she enjoys what she does and gives it her all and the recorded result is just as powerful as the live version. On the other hand, the change brings a minor gripe with it, which could just be personal preference: the vocal melodies as well lyrics are less memorable, or rather less catchy, which led to these forty minutes needing more listens to really get through to me.
All in all, Fallen Lies manage to deliver yet another solid record that will scratch the alternative rock itch of their fans and new listeners alike. The album will be available to the public starting this Friday, October 20th, along with a release show at Rockhal, which is already sold out, sadly. If you want to keep up with the band, be sure to head over to their Facebook page!