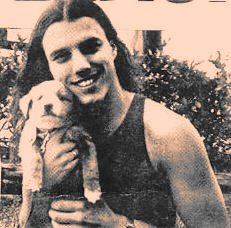 I am not a big fan of Death Metal and I am that kind of guy who never knows what to say when someone is feeling bad or died. Chuck Schuldiner died 10 years ago today and with him did the only Death Metal band I really enjoy listening to. I never knew this guy personally but when I watch his videos or listen to his songs I feel some kind of strange. He often made me smile and I even can't say why. His music simply makes me feel good. Chuck seemed to be a very charismatic and down to earth dude with a brilliant talent.
It's a real shame that you have gone but your music is still here and never shall be forgotten!
[youtube http://www.youtube.com/watch?v=rSxwe98QFiQ]
This video was displayed on Chuck's funeral and it's made by his mother with her choices of music.
                                                 R.I.P Chuck Schuldiner!