Saturday, including a tent metal report and Funky P.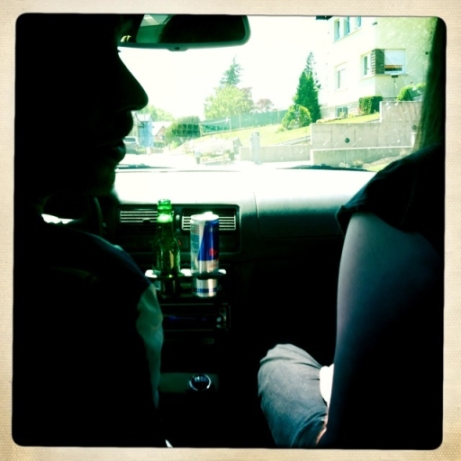 Eric, Luc and I arrived in Tuntange around 3:15PM and after a couple of greetings here and there I made my way to the tent to check out the first band of the day for me: A Mute Appeal.
It was the first time I saw them live and since I had no prior knowledge of who they are and what they play I was surprised by the energy these youngsters brought to the stage. The crowd seemed to enjoy that energy and thus formed the first ninja pit of the day. The Luxembourgish deathcore quintet played their songs flawlessly but the thing that definitely stands out the most is the singer's powerful voice who manages to deliver amazing growls and screeches. The only downside to me was the fact that the instrumental part was pretty repetitive, but considering that the band is only a year old I can forgive that. Plus, there was a novelty for me: a rowboat mosh-pit, for lack of a better name. I didn't take a picture of it but I'll try to explain it: imagine a dozen people sitting on the floor, one behind the other and they row in synch with the music. Needless to say I had a good laugh.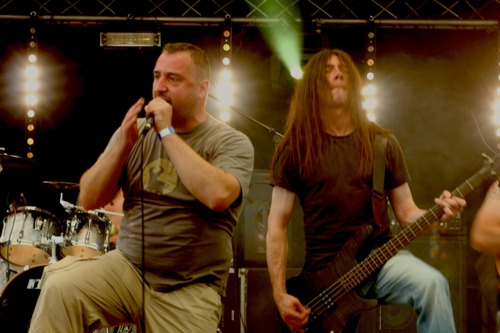 The next band was Abstract Rapture, who were announced last minute as one of the surprise acts. After seeing them the last time at their CD release a week ago I was glad that they chose quite a different setlist which was mostly comprised of songs from their debut EP Dead End Entry with 3 songs off their most recent endeavor Earthcrush. The sound was very crisp and that was just what made their flawless performance even better. The crowd was very enthusiastic and a lot of happy headbangers were feeling quite at ease by the looks of it. There is one thing I can say without a doubt: welcome back Dritt!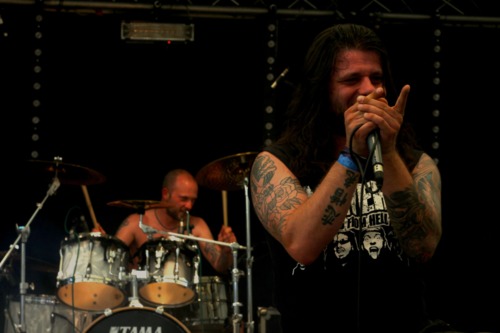 After a short break the next band took to the stage: Cosmogon. This Luxembourgish superband which consists of members of now defunct Ex Inferis and Abstract Rapture plays an interesting mix of metalcore and sludge which might sound weird at first but it works in the end. Just like their predecessors Cosmogon had a great sound and even though it was the second show in a row for drummer Spitt and bassist Steven this did not affect their performance which was as per usual killer, with Fab's amazing voice being the cherry on the pie.
Then I had a quick change of scenery to the main stage where Funky P were playing and even though I only witnessed three songs I was amazed by their super charismatic singer. The Luxembourgish funk formation delivered a great performance and definitely managed to put me in a good mood.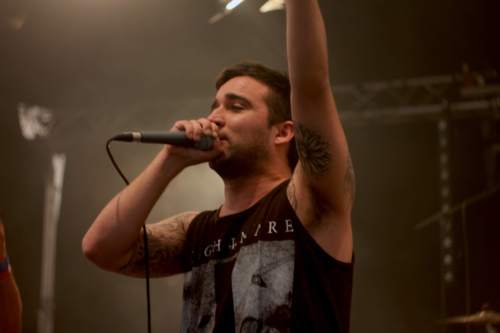 Back to the "metal tent" where Hills Have Eyes had already started playing. I only checked out one of their songs a while ago and I didn't really remember much of it so I was surprised by what my ears were given: finest metalcore. This Portuguese band brought an amount of energy to the stage that almost scared me and I was kind of sad to see that the crowd was nowhere nearly as enthusiastic, at first. However, about halfway through their set the crowd warmed up and the wooden floor of the tent didn't stop wobbling. I'm surprised no one got seasick. The, in my opinion, best band of the day so far was rewarded with what I believe was the first circle pit of that day.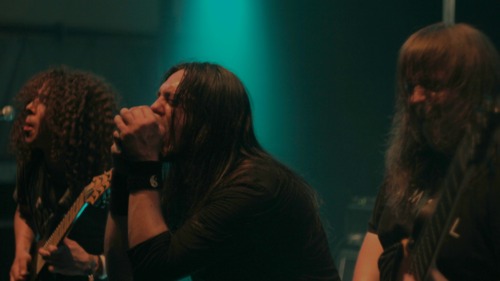 Up next was the perhaps most anticipated metal act of Saturday: Scarred. After devastating the tent exactly a year ago at Food For Your Senses everyone had high hopes for them and I think it's pretty safe to say that these hopes were not crushed. Even though their guitarist Yogy played with Abstract Rapture earlier that day every riff came out as clean as always and the rest of the ensemble were just as fit. The sound was nearly perfect and Sach's vocals laid nicely on top of the instrumental thunderstorm. The crowd was headbanging and moshing like no tomorrow and toward the end of the show they formed a rather epic wall of death which sadly ended up being somewhat of a failure.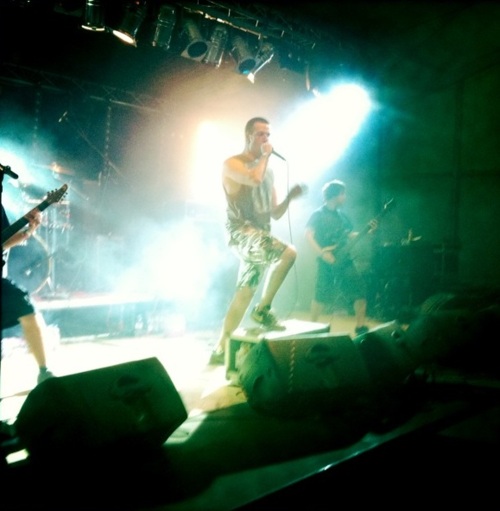 By this point I was close to passing out from hay fever and the one or the other beer I had  up til now. However I had sworn to myself that I'd check out Arkaeon in order to determine if they just had a bad day the first time I saw them live. Turns out that must have been the case because what I saw and heard here was almost better than the songs on the album. Especially singer Rosh stepped up big time and laid down a killer performance. Sadly the concert had to be interrupted for medical reasons before they could play their new song. All in all, I'm looking forward to the next time I see them live and until then: get well buddy!
Yannick
So let's go get some fresh air and see what happened on the open air stages that day. As you can see the line-up on Saturday was by far stronger than on the other day. More to do for us, more for you to read.
I hadn't seen Quentin Lagonza for years and it really felt a bit like the old times, although they have changed their style a bit since then. Some very nice riffs packed into a powerful 90s grunge suit gave a good start into the day. The "Rise-Against-like" vocals also fitted pretty well.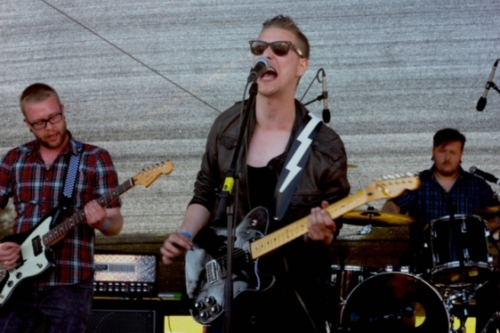 Dirty Crows celebrated their release at the 2nd stage and showed the audience how they have changed during the past months. And this does not only count for Marc Bonert, who seemed to have had some kind of symbiosis with Josh Homme. Their progress as a live band was obvious, although at a few points things became a bit longwinded (don't pause too long, keep the flow!) and the sound was by far not brute enough for some real desert rock'n'roll. Nevertheless, there was no comparison to last year's performance, the new songs just rock. Skill comes with practice, and this already sounded way more mature, also with help of the guest appearances like Château and Jan Kerscher from
Inborn!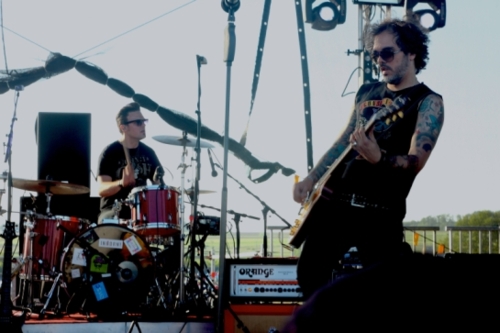 What can I say about Porn Queen? Well, they just look like and sound like they are called: classic rock and even stadium rock was served at the main stage, mixed with appropriate cigarette lead vocals. For those who like to wear cut-off jeans and drive with your Harley to the festivals: this must be your band! One may has to wonder if this kind of music is still going to attract many lovers those days. Porn Queen don't seem to care.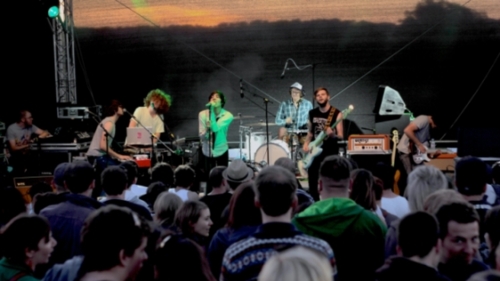 Inborn! delivered the Space Odyssey soundtrack of the day at stage 2. This typical sound they created themselves is also perfectly presented by now. It sometimes even grows bigger than the stage would allow. Although personally, I prefer them playing in a hall, this will perfectly work at bigger festivals. Despite experimental and electro parts they are never afraid to release their guitars. The melancholic basement of this future rock supplied an interesting contrast to the rest of day 2.
I am a total nitwit considering hip-hop, but what I could observe at the main stage was that De Läb once more celebrated one huge party. They are a FFYS constant, like it or not.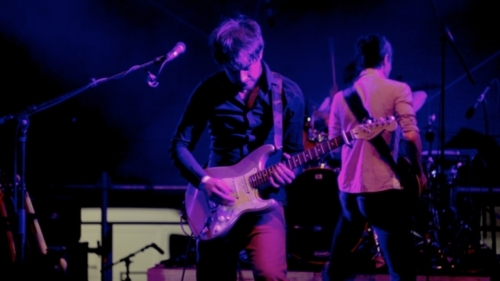 The Intersphere arranged the warm-up show for Mutiny on the Bounty, and by writing this, I've already done them an injustice. The guys from Germany are my personal surprise of this year's FFYS because I had never heard of them before (shame on me!). First, they just managed to take every little drop of good sound out of this 2nd stage. I wonder how Dirty Crows would have sounded with those settings. Second, their mixture between hard post-core, clean vocals, an insane drummer and even a few head banger moments just rocked the audience out of their shoes. A very merciless and professional show – the fact that The Intersphere sometimes sound like Fall Out Boy is not a bad point. Unfortunately not enough people were there to witness their performance because the competition on the other stages was very strong. However, thumbs up boys!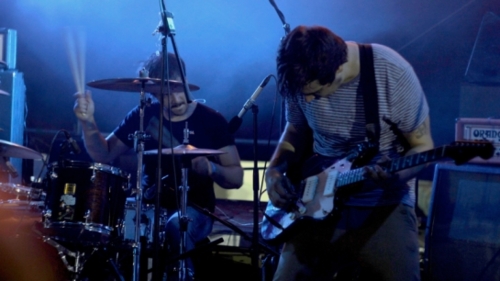 A few weeks ago we had the luck of witnessing the Mutiny on the Bounty release show at the Atelier in Luxembourg City, and their FFYS performance was in no way inferior. Post-rock, post-core, apocalyptic mood, in one phrase: this should have been a huge main stage performance! The people at stage 2 however didn't care and enjoyed Luxembourg's finest post-core band at the moment. MOTB exactly control the point of their outbreaks, needless to say that on a technical level this is just grand. No idea how this drummer can handle all this, being the lead vocalist at the same time.
Long text, long day. Day 3 will be online tomorrow!