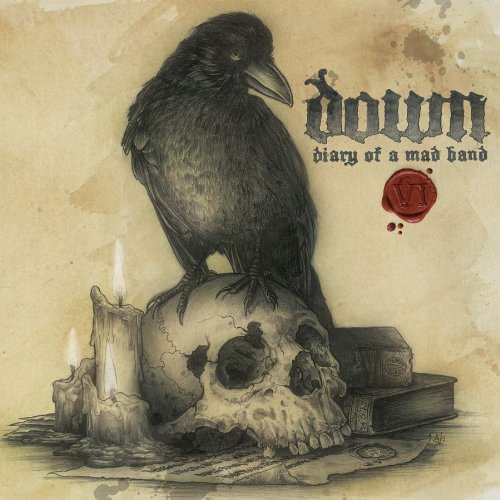 Ok, so Down are playing in Luxembourg this month and I decided to give this band another chance to win me over. Having been a Pantera and Corrosion of Conformity fan since the early/mid 90s I did not exactly find out about the band recently, in fact I knew the first album by heart before I even bought it, thanks to my older brother who owned it.
Down are one of those bands that, while not crap, they only succeeded because of the "all-star" lineup, and sadly in this case Phil Anselmo. I do not hate Phil, let's get that out of the way, I just do not think that he is anything special once he steps out of the Pantera shadow. He is great at screaming, with a passion I might add, but once he tries to sing he is just another singer. Another thing I never can get past is his big mouth. Phil is a simple guy and writes very flat lyrics. This badly shows in a genre that has many talented lyricists writing Lovecraftian lyrics or concept albums about life and death. Phil comes along with his redneck attitude and mindset.
However, the biggest disappointment for me is Pepper. Being a fan of Corrosion of Conformity and their riff-rock/stoner albums, nowhere does Pepper come close to the C.O.C. Material. The riffs are flat, blues-tinged rock that we have heard a thousand times already.
The band does have some great songs though, but every album has just as many filler material. This live album was recorded while the band was touring their second record and that is already the biggest plus as I hate the third record. The set comprises 2 Cds and 1 Dvd. The biggest plus is….well the set isn't expensive. Yup, that is it, nothing else to say about it.
Now on to the negative stuff! The Dvd is footage of the band playing synched to the audio of a different show. At times the band is playing something completely different than what you are hearing/seeing. Seeing Pepper playing power chords while hearing him play a solo and so on. Phil is Phil, slurring his way through sentences, not leaving behind anything worth remembering. Pretty sad to see him like this. I can't help but wonder why him and Zakk Wylde haven't formed a band yet. Also the Dvd is not a full show, so at no time do you get the concert experience. The same can be said about the 2 Cds, a song plays then Phil dedicates it to someone and that is it. Just boring. The booklet is an insult. You have 1 band pic spread over the 2 inner pages showing the band on stage….from behind.That is right, you see their backs! No info, nothing. The tracklist is pretty solid as they do play the hits and best songs from the first 2 albums.
For fans only, but even many of those complained about the cheap cash-in. Remember, it was released by Roadrunner so it is not like they ran out of money. Release crap quality releases and then wonder why your sales are declining…
[youtube https://www.youtube.com/watch?v=RmHs_S-5fHc]