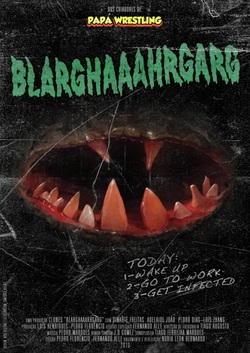 A long time ago Eric from El Gore reviewed the Portuguese short Papa Wrestling which was quite a surprise for me as I had never heard of the independent production crew Clones before. They immediately got my interest with Papa Wrestling and I decided to follow them in the future. BLARGHAAARHGARG is the group's second short movie with the production starting back in 2010. This flick is a complete independent movie and was mostly financed by selling Papa Wrestling DVD's and secondhand clothes at the Lisabon flea market.
The story is short and simple. An exterminator upsets some chemicals during his job in a lab. The chemicals get in contact with his nasal mucosa and after he blew his nose, a hungry and destructive snot-monster evolutes out of his bogey. That's all and I don't know about you but I don't need more.
BLARGHAAARHGARG is that kind of movie title to which I am attracted like flies are to dog shit. The movie itself is abolutely genious with the exact amount of slapstick and black humor. The monster is a cheap paper mache construct but not less wonderful and sympathetic as a lot of the known, independent puppet, paper mache, body-suit monsters from the past 80 years. The special effects are exactly my taste: slimy, gory honest and handmade with great sound effects rounding everything off. One thing I really appreciated is around 9:58 min. This typical '80s and '90s series armament in the style of the A-Team, Mc Guiver and even Home Alone.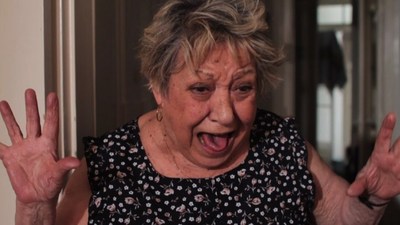 The ending is completely nuts and I am still all smiles when I just think about it. I do not want to spoiler too much, I just advise you to really pay attention to the sound when the monster leaves the room. Whoever came up with this idea is an absolute genius. BLARGHAAARHGARG is a quite fucked up monster movie and you really fast get an idea in which direction this flick is going, namely in the direction of Killer Condom and co. If you are a Troma fan, you will love this (and all the other Clones movies). But in the end these guys do not simply copy Troma, they are for sure inspired by Uncle Lloydie but have their completely own idea of craziness.
To conclude, I have just seen their last masterpiece which I am also going to review in the near future. Be prepared for some awesome nonsense. I am really looking forward to seeing what the Clones' crew has to offer. Stay independent and make some art!
[youtube https://www.youtube.com/watch?v=Ni1MrpZDjrk]