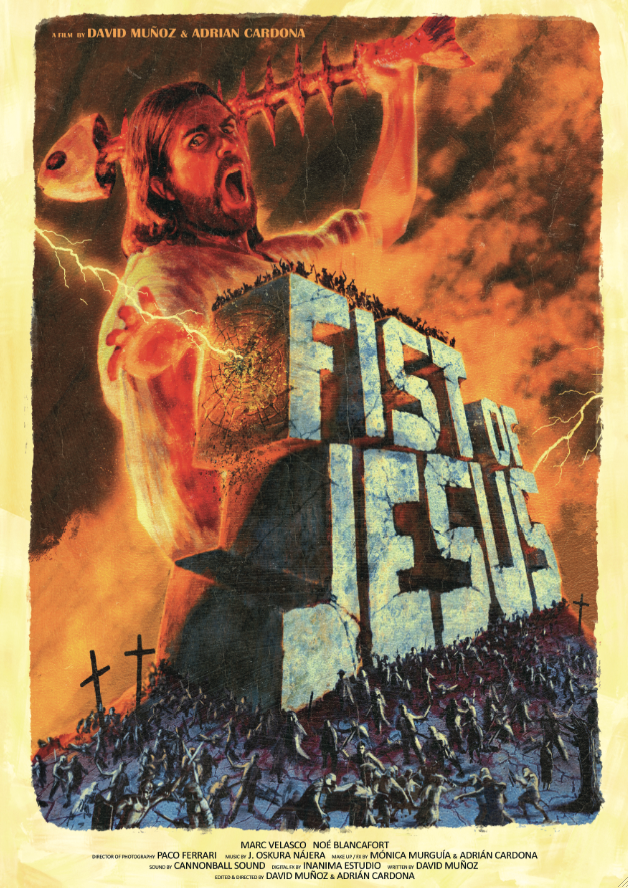 What would you expect from a 15 minute movie Fernando Alle (from the almighty The Clones) recommended you and which was directed by David Muñoz and Adrián Cardona, the same crazy dudes who did Brutal Relax (read my review here)? There is only one logical answer to this question: Fist Of Jesus. A ultra-violent Peter Jackson (the Braindead/Bad Taste/Meet The Feebles era) reboot version of Monty Python's Life of Brian. That's all, basically.
Nonetheless here is a personal synopsis: Jesus, who speaks Spanish perfectly (!) talks big and in addition promises Jacob to raise the latter's son Lazarus from the dead. You can imagine what happens next, can you? Jesus manages to bring Lazarus back but something went wrong and the saviour and his loyal companion Judas suddenly have to face an army of guards, residents and cowboys (!!!!!!) who all start behaving abnormally and only have their assuage of appetite in mind. As Judas' emotions begin to run riot, he decides that he can't live with the terrible guilt anymore and hangs himself. Jesus resurrects Judas, unfortunately he has to try it twice (as the latter is still hanging from a tree) and convinces him to fight the armies together, with all kind of different fish.
I read on the official homepage that the crew plans on doing a Fist of Jesus feature film called Once Upon A Time In Jerusalem (you can donate here). I think that  Fist of Jesus works perfectly as a short movie but I also have the apprehension that the topic doesn't offer enough material for a feature. It is the same as with the fake trailers. In the last few years we had incredible good ones (Machete, Hobo With A Shotgun etc.) whereas the full-length movies were disappointing. Nevertheless I wish the crew all the best and it would be great if they could prove me wrong and make a great movie out of the brilliant Fist of Jesus.
Watch the movie here:
[youtube http://www.youtube.com/watch?v=GuKV2Z3eYTY]