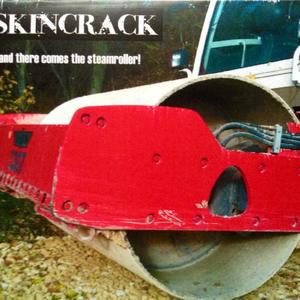 In fact the steamroller comes a little slowly, but those machines aren't really known for being race cars but for their power. Power is the quality Skincrack want to broadcast with their debut album, although the opener seems to have a few problems, being a more punkish song compared to the coming outbursts that float somewhere between punk, metal and stoner rock. Walk Away's refrain melody nevertheless is pretty catchy before a harder riff disrupts it and leaves us with the way darker New. Sombre vocals (I guess there are two singers sharing the vocal parts on the LP) guide trough a solid rock song that doesn't fear to combine metal-like screams with melodic parts.
One feeling that won't vanish throughout …and Here Comes The Steamroller! concerns the impression of having heard lots of those parts already in the 90s. Cut Into Pieces then very clearly opens the metal stage for the listeners, and in the beginning you may think that a different band is screaming at you right now. Before coming to a slow end, the song is very straight, making it the strongest of all the coming outbursts in which one often gets the impression of a band trying too hard instead of just mercilessly jumping trough the wall.
The fact that even the feeling of good old grunge arises sometimes just confirms the 90s spirit mentioned above. The vocal style of the "main" vocalist (correct me if I'm wrong) unfortunately takes a lot of power away, being a roughly barking dog that would perfectly fit into an aggressive punk band.
The songs off the second half sometimes offer an impression of crudeness or portliness, which often destroys the flow of the first songs. Celebrity may be considered as an exception, displaying a similar directness as in Cut Into Pieces. The heaviness doesn't disappear, mission "power" is at least accomplished. Skincrack seem to still be looking for their own style and there surely is much to improve considering song composition and creativity. But you can give these guys a chance in those minutes you just want to be crushed by a steamroller or something.