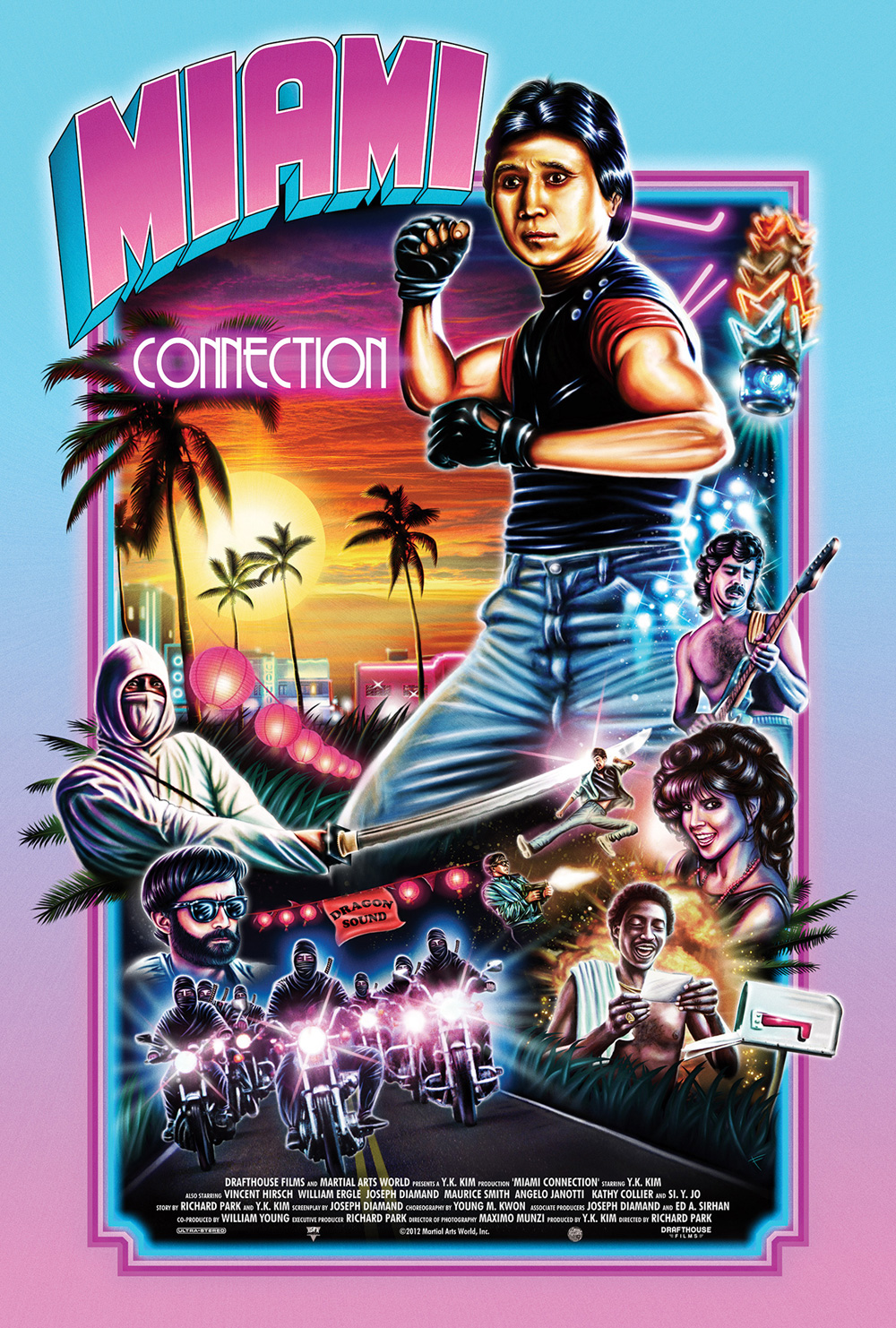 Last week I finally found some time to watch a movie and while I was thinking about what to watch I came across the Miami Connection trailer. I loved it and still do. There is a 80s rock band (with a pretty front woman) playing, there are motorcycle ninjas, gang fights, there is fire, cocaine and even some gore. You can't go wrong with that, right? Well, you can. As much as I love the trailer and the fantastic movie poster, the movie is absolutely disastrous in its entirety.
Miami Connection (1987) is an indie martial arts film which was ignored and basically remained unseen for years, until Drafthouse Films decided to restore the movie in 2012 in order to give it a release.
Writer, producer and co-director Y.K. Kim, who is a taekwondo martial artist, clearly had no idea what he was doing and neither did the rest of his team. Film director Richard Park discovered Y.K. Kim when he was on a Korean talk show to promote a book about taekwondo. Park thought it was a good idea to convince a man who had no previous experience in the field to bring to life one of his storylines, and that's how Miami Connection was born.
So, as I said, it's painfully obvious that Y.K. Kim has no cinematographic knowledge or skill at all. The story is confusing as is ("A martial arts rock band goes up against a band of motorcycle ninjas who have tightened their grip on Florida's narcotics trade"???), but on top of that, there are too many superfluous subplots which don't add anything to the movie. The chronological order of the scenes is all over the place, there is no structure behind it. The whole movie is like a trailer: it doesn't want to reveal too much about the actual plot, which is obviously suboptimal for a feature length film.
All in all, what I took away from this viewing experience was, once again, that the term "cult film" can be misleading. Many people don't understand that even trash films can be inspirational and worthy of respect. Miami Connection, however, does not fit the bill.
[youtube http://www.youtube.com/watch?v=VpZu69OB2KM]