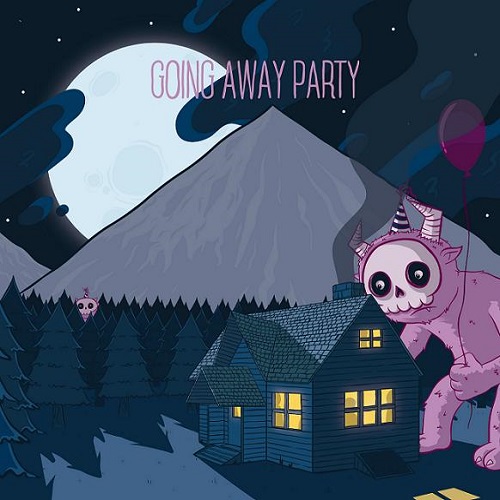 I've said it a thousand times before: I fucking love pop punk! On the other hand there's a genre that I used to avoid in my teens, because I couldn't get into it, but grown quite fond of at a later age and that is emo…opposite day, I know right? Either way: Going Away Party unites both worlds, with a definite emphasis on the latter genre, on their self-titled debut album and I want to rave a bit about it.
The trio's music has this really old-school emo feel to it, complete with slightly wonky playing, an angsty atmosphere and simple but effective melodies, that just manages to appeal to fans of the genre. Especially during the drum parts, I noticed a handful of hick-ups such as several out-of-beat parts, but rather than perfecting it digitally, they stayed in the mix, which gives them so much more character.
The riffs during the eleven tracks are nothing you've never heard before, and they're also kept quite simple, but they simply work so perfectly in the ensemble. It's also where you can find the pop punk elements, due to the truly enjoyable melodies and the resulting catchiness. In terms of tempo, there's a couple of more up-beat songs and some slower ones, which altogether make for a fairly diverse experience.
The major selling point for enthusiasts are the raspy, yet whiny, vocals that display so much charisma. Along with the "gentle" screams and the truly cliché lyrics, it feels so nostalgic that I can't help but love what the Brits put together. The vast majority of the thirty-nine minutes deals with lost love, teenage-angst and the tracks all convey a deeply melancholic vibe.
To sum things up, Going Away Party definitely don't reinvent the wheel, quite the contrary actually: they put a wheel to use that was forgotten for a long time, and in doing so they show that it can still drive as smoothly as in its prime. So, if you too miss those long-gone days of good emo music, don't hesitate and check out their self-titled debut which drops on June 8th! In the meantime, you can head over to their Facebook page and sadly not listen to the song below, because there's nothing online yet.