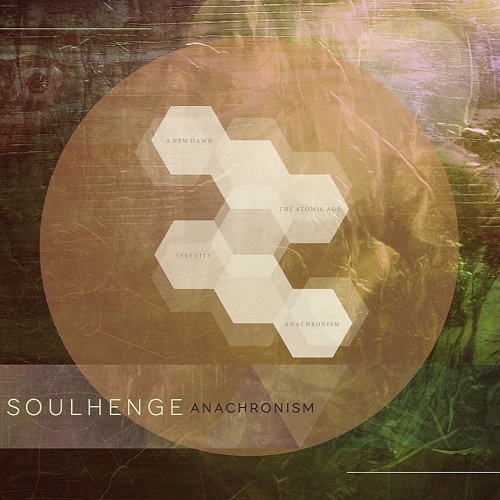 One of the biggest new phenomena of the past ten years in the realms of heavier music is hands down djent. While its roots lie in even earlier times, there has clearly been a very steep increase in its popularity, and almost every new band seems to at least have djent elements in their sound. Sadly, it's never guaranteed that with quantity, there also comes quality, since a lot of new bands seem to follow a "djent-by-numbers" scheme, where it's the same uninspired open palm-muted note over and over again, followed by a breakdown, and so on. You get the idea. This is mostly the reason why I'm not a huge fan of this kind of music, and I must admit that I tend to ignore most of its new releases these days.
However, since I set myself the goal of covering the majority of local releases, and I had already skipped their previous album, I decided to give Soulhenge's new EP a chance. So let's see if Anachronism will let me add "djent" to the list of things that I enjoy from my hometown, besides beer.
Right off the bat, one thing I appreciate here is that the quintet chose not to include a separate track as an intro, but instead incorporates a (possibly shortened?) version in the opener. It always annoys me when an EP is artificially inflated with uselessly long intros that add nothing to the big picture, so this is a clever approach. Throughout the four tracks, the djent formula is clearly recognizable, but at least to me there are enough ideas and variations thrown in at the exact right moments to make the listening experience very enjoyable.
The other major positive aspect is that there is an actual singer. Doing clean vocals. In a metal band. In Luxembourg…and they're fairly good too! It's always been a big complaint of mine that our local metal scene had no good clean vocalist, a fact that I remained convinced of until a bit more than a year ago, when I was taught better. During the seventeen minutes, Soulhenge's vocalist also displays very respectable screams and fairly deep growls, that go hand in hand with his clean vocals. The only problem I had during all my listening sessions, is that I'm having a hard time understanding almost half the things he's saying despite being fairly well-versed in scream-decyphering.
Even though the Diekirchers don't reinvent the wheel in any shape or form, I really like their approach and I would say that while their songwriting is at a good level already, that's the only point they can and should improve on…because talent is not amiss here. Anachronism is definitely an evolution in comparison to its predecessor and is a solid and fresh entry in an over-saturated genre. Check out the teaser below and head over to the band's Facebook page for more information. And last but not least, if you want to experience them live, head over to Rockhal on May 20th for the release party!
[youtube https://www.youtube.com/watch?v=DOuUHD-pP3w]