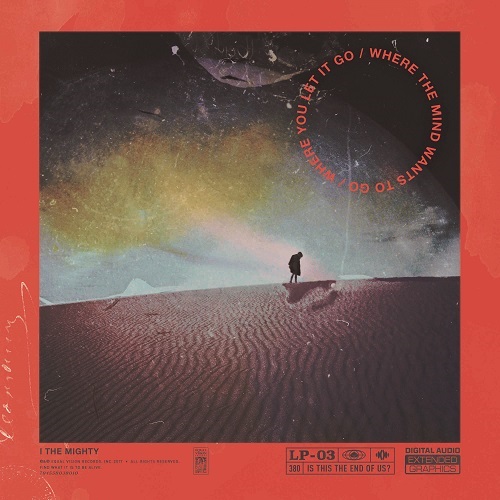 I would consider myself to be someone follows a lot of bands in the post-hardcore scene and thus is usually up-to-date with the evolution of the genre and the tendencies that it's taken in the past few years. One such direction is that many bands have changed their sound into something, for lack of a better word, more radio-friendly; a fact that I don't mind since a good record does not necessarily need screams, or mosh parts. While some listeners absolutely despise change and subsequently claim that the bands have sold out, I'd like to argue that it all lies in the execution. While I don't like to Gossip, there is definitely a recent entry in the catalog of bands that I listen to, where the new style has failed quite spectacularly. But enough opening monologue: today I have the pleasure of writing about I The Mighty's new record Where The Mind Wants To Go/Where You Let It Go, which does it right!
Upon the first listen, it is undeniably obvious that the quartet has taken a step back and fine-tuned their sound into a tamer version of their former selves. However, the trademark ITM sound is still there: well thought-out rhythmic patterns brought to life by energetic performances and painted over with the distinctive vocals. I feel like the main aspect that was altered is the guitar sound, which is mostly void of distortion and fast-paced riffing; opting instead for chords and a cleaner sound. But fret not! There are some "old-school" sounding gems that can be found among these forty-nine minutes…and they are true bangers!
Where the Californians definitely stand out are the two most important features in music, to me: coherent and captivating songwriting, as well as intelligent lyrics or themes. A fact that many bands tend to forget when they change their sound. There is one song, called Sleepwalker, that stood out to me immediately due to it checking both those boxes and, on top of that, being catchy right off the bat! Another aspect where WTMWTG gets bonus points, is the order of the individual eleven songs, which is the perfect simulation of a roller-coaster. Just when you think you've heard all the record has to offer, it hits you with another looping!
As mentioned previously, lyrics are an extremely important factor when it comes to my personal enjoyment of music and, to no surprise, this third full-length is filled to the brim with memorable lines and clever analogies, which make every new listening a joy. The vocal performance itself is also as top-notch as was to be expected, albeit with fewer screams, but therefore a special gem in the form of a guest appearance by Dance Gavin Dance's Tilian Pearson on Silver Tongues, which can be found below.
All in all, Where The Mind Wants To Go/Where You Let It Go is not only a worthy follow-up to its predecessor, but also a very well-executed transition toward appealing to a larger audience. I am convinced that I The Mighty have bright days ahead of them, and I can't wait to hear the general reaction to this record! In the meantime, you can head to their Facebook page and keep up with their doings until this Friday, October 20th, when the record is released!
[youtube https://www.youtube.com/watch?v=wnfEONkyopA]